CultureConnect clients launch mobile guides for a variety of collection types – from art museums to history museums and historic sites to parks, botanical gardens, and natural history museums. Typically, the goal is to help visitors navigate their visit both logistically (where am I? where am I going?) and experientially (what is this object, story, and feeling?).
In 2020 and 2021, many museums started looking to their mobile guides and websites as essential communication channels that needed to do more than just help visitors navigate the physical space. The desire to educate, entertain, and keep audiences engaged was high priority. It is within this context that we outlined new content approaches for a museum's existing mobile guide. While we speak directly to mobile guide experiences, these lessons remain true for online exhibitions, blog posts, and other digital content experiences. The strategies below are inspired by and drawn from some of our most innovative client projects in 2020.
---
THEMATIC STORIES
In the Pick Your Path example, we showcase opportunities for various curators and subject matter specialists to share insights into the collection – allowing museum audiences to explore beyond current exhibitions whether they are on-site, at-home or in the classroom.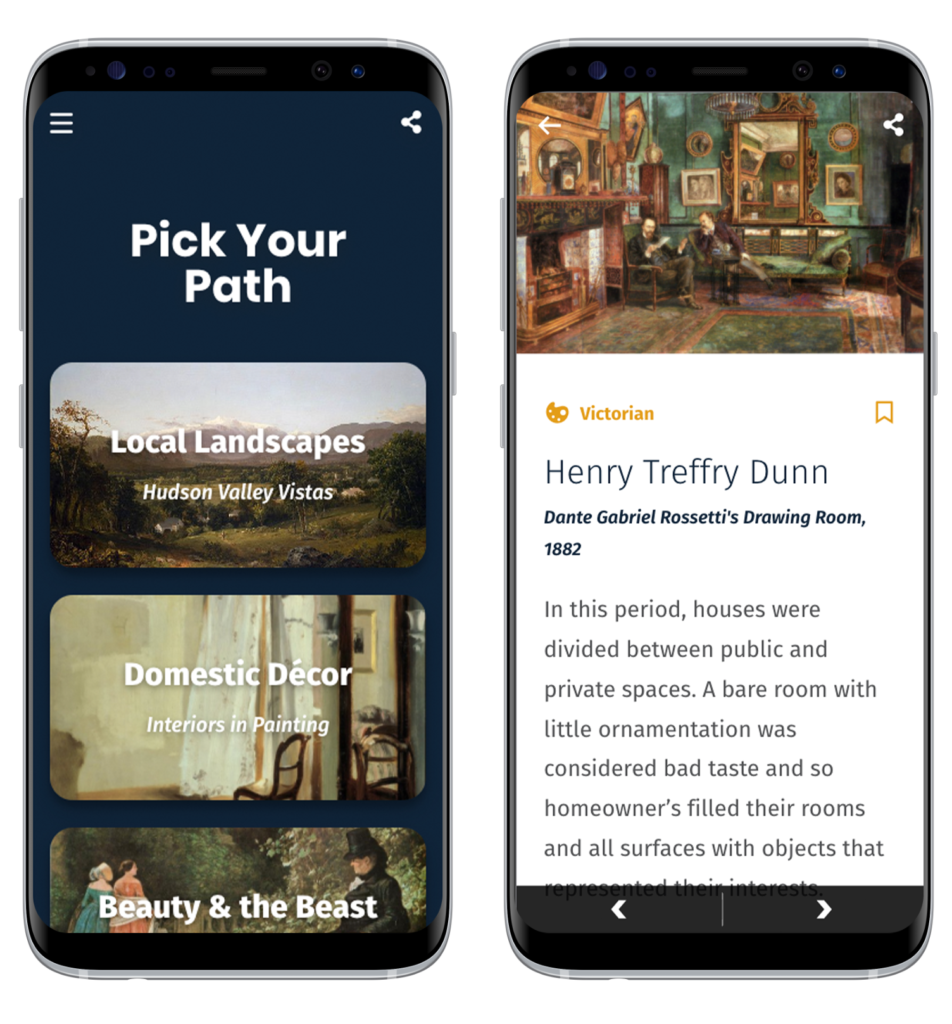 Local Landscapes dives into a history of landscape painting, the Hudson River School, and connects local geography to the museum collection.
Domestic Décor creates moments to learn about interior design, public vs private spaces, and the history of domestic interior paintings.
Beauty & the Beast helps visitors explore familiar narratives in historical paintings.
OUR INSPIRATION: When our client, the New Orleans Museum of Art (NOMA) was forced to close in March 2020 due to COVID-19, they decided to expand access to their collection through the mobile guide. They added thematic tours to visitors both on and off site, sharing the opportunity to explore NOMA's collection through different lenses. For example, Animals in Art for Families and Art & Ecology offered learning opportunities beyond what the museum has on view. (Pictured above.)
---
TIMELINES
The chronological nature of a timeline makes it an ideal candidate for mobile guide content that showcases content in scrolling list format. Interpretive content can be as simple as text that educates the user about key figures, locations, and definitions. With more robust records, historical event pages can include multiple photographs, artist renderings, or film of an event along with primary source quotes, oral histories, and even audio or video interviews with those connected to the event.
OUR INSPIRATION: The Florida Holocaust Museum joined the platform after their museum closed and created a mobile guide experience for their exhibition, Beaches, Benches, and Boycotts: A History of the Civil Rights Movement. Rather than structure it as an audio tour moving through an exhibition, they created a timeline experience to guide the user through this cultural movement. Each tap of the 'Next' button, pushed the user forward to the next event, related collection items, and exhibition interpretation. (Pictured above.)
---
PROCESS & INSTRUCTION BASED CONTENT
Like timelines, stories showcasing a process are well suited for the mobile guide format. Users can walk through each process phase to better understand concepts holistically. Below we include a step-by-step learning module on a frog's life cycle. On each page, students learn about the phase, how its defined, and take a quiz to reinforce their learnings.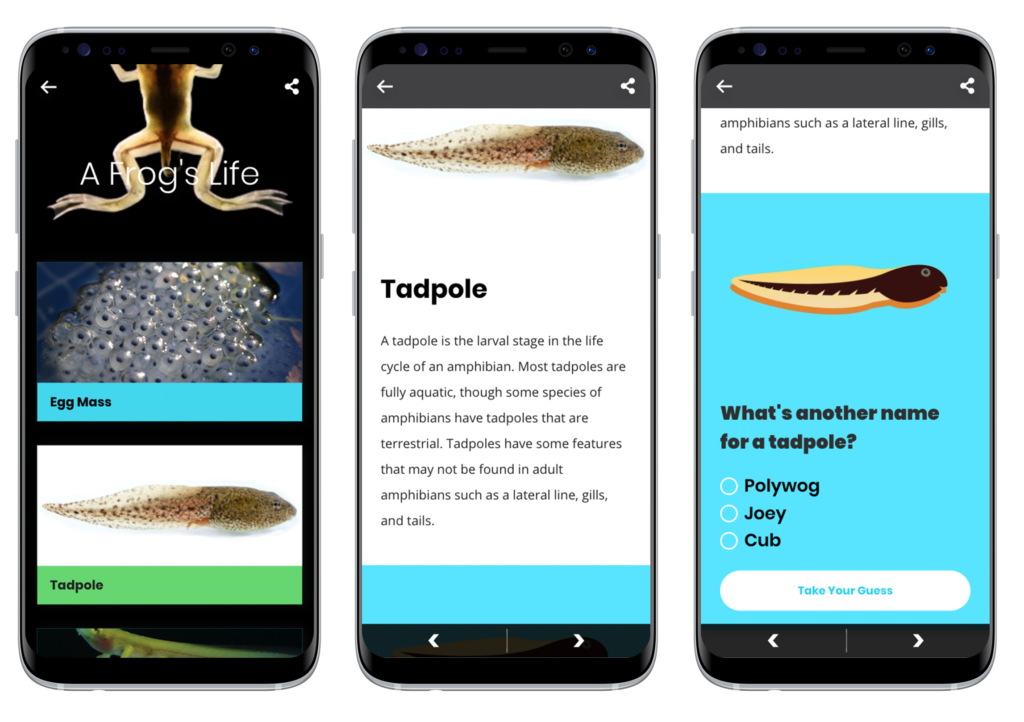 OUR INSPIRATION: We've seen many clients including the Maymont Nature Center, Mississippi Museum of Art, and Marine Mammal Center (pictured above) take this approach to help K12 audiences learn through individual and group activities, interactive quizzes, and challenges. Leveraging interactive modules and animations such as GIFs throughout the application makes for a fun, interactive experience for any age.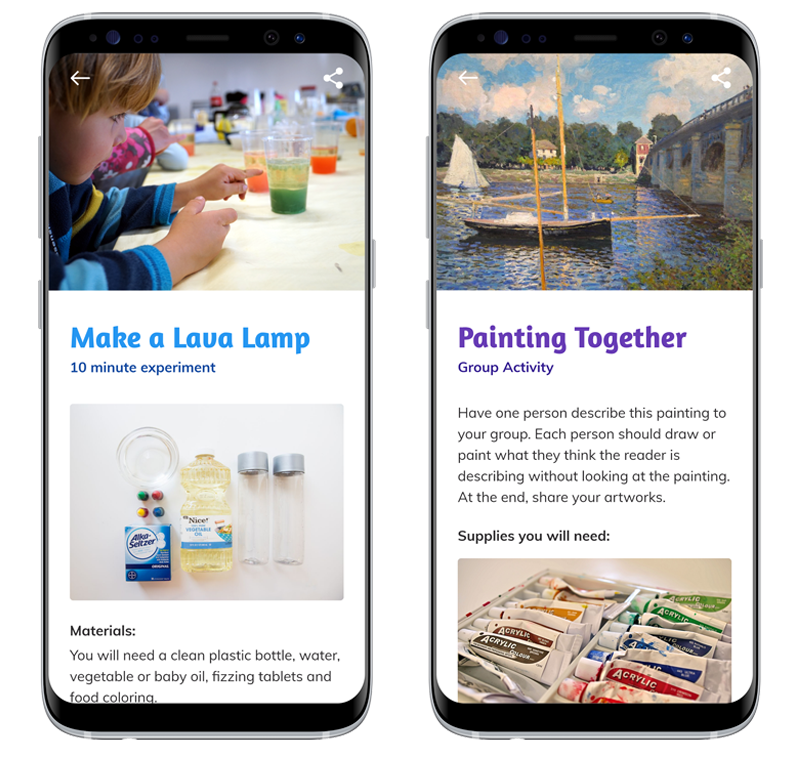 In the Make A Lava Lamp and Painting Together examples, students are learning by working through activities at home. The Mississippi Museum of Art has taken this approach across multiple tours to help guide teachers who are providing instruction on art history and general visitors seeking Guided Meditation as they explore the collection. Explore other examples of how to bring K12 Education both online and at home. (Pictured above.)
---
WALKING & DRIVING TOURS
Walking and driving tours can help audiences explore local parks, trails, gardens, historic landmarks, and many more outdoor spaces even if the sites are currently closed. Activate real-time GPS way-finding to simplify navigation for the user and provide step-by-step instructions. Go further and make this a scavenger hunt discovery experience.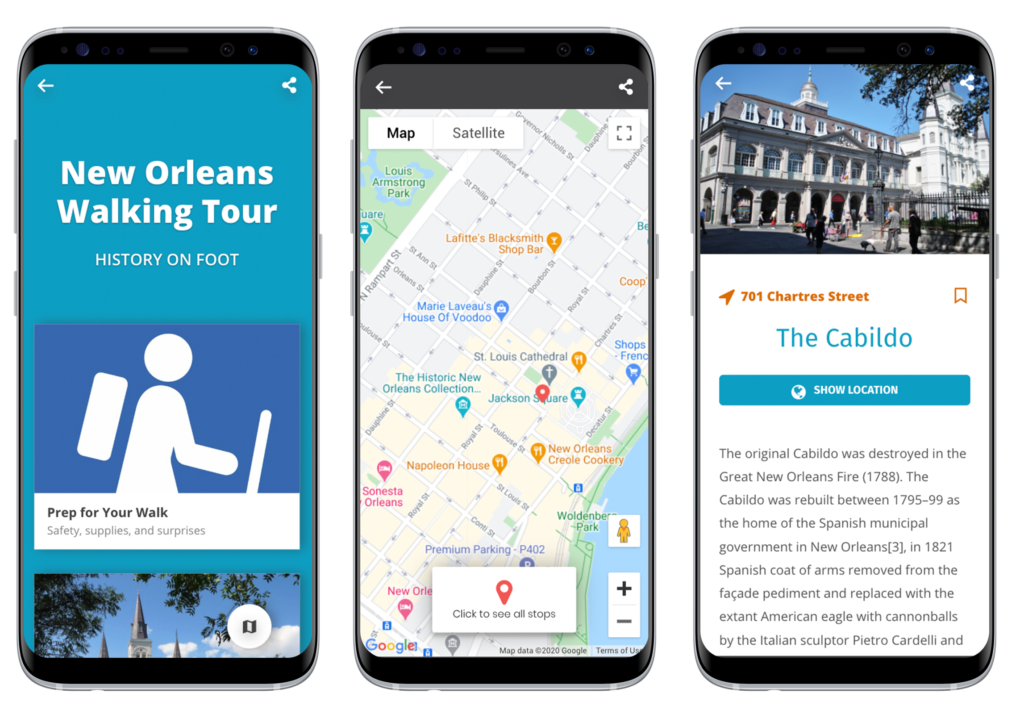 OUR INSPIRATION: The Munson-Williams Proctor Art Institute and Thomas Jefferson's Monticello are using scavenger hunts for a campus-wide discovery experiences for all ages. The CultureConnect team has also built city tours for years and we love to see museums incorporate local history into their digital experiences. (Pictured above.)
---
If you'd like to read more in-depth case studies, check out our Who We Serve page or our blog, The Wired Frame, for free tool-kits, best practices articles, and a collection of webinars.