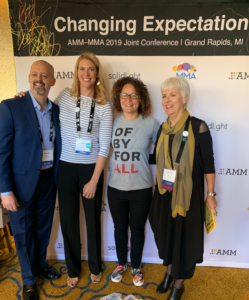 Sponsor Our Keystone Programs
Connect with the Midwest museum community, cultivate new relationships, and collaborate with professionals from a range of disciplines as a program sponsor.
Your company's time, talent, or treasure ensures that professionals and students have access to a broad range of resources, high quality programming and professional training, and important industry-wide news.
There are many ways to support AMM's programs:
Support our largest professional event – the Annual Conference.
Celebrate innovation and creativity in the Midwest region as a sponsor of the AMM Awards Program.
Remove barriers to access and ensure seats at the table for underrepresented or underserved museum professionals by sponsoring professional development scholarships.
Collaborate with us on educational webinars, virtual tours, or fund meetups. Sponsors who fund these events have the opportunity to highlight their partners and clients.
Contact us for available sponsorship and corporate partnership opportunities.
Promote Your Products and Services
We offer a variety of advertising options – digital and print – with the conference and all year long. Learn more about conference program and digital advertising options on our conference website here, or complete our online form to order a set of member mailing labels (PDF label files for print only).