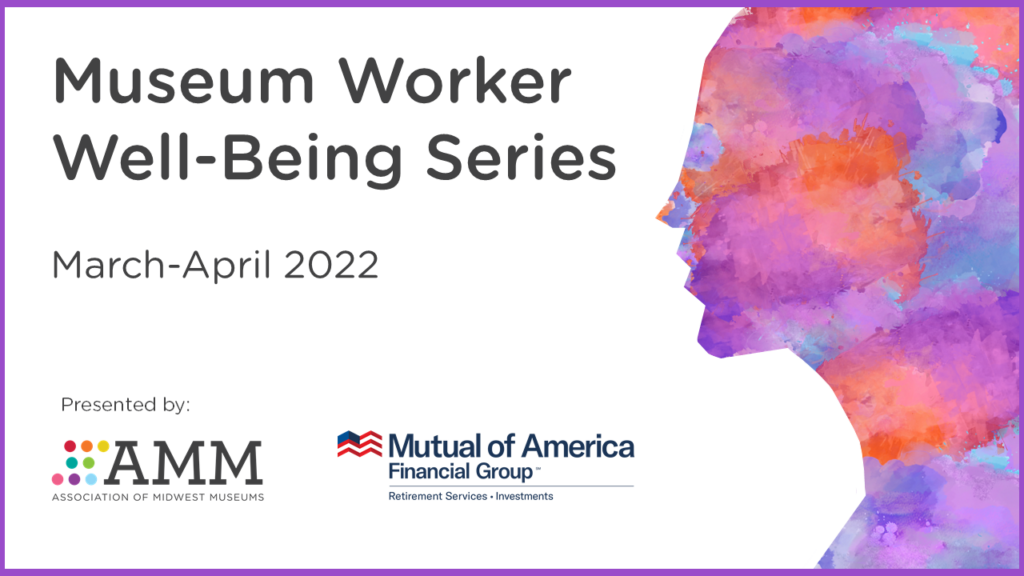 In response to members' concerns, AMM has teamed up with Mutual of America to provide programming to explore ways in which supervisors and museum leaders can better support the well-being of museum workers. Programs in this series will be a mix of opportunities to learn, have fun with your peers, gather new ideas, relax and recharge.
All are welcome! This series is FREE. Consider a donation to AMM or our museum guests as a token of your appreciation!
---
Programs
Some Good Museum News: Midwest Edition
We may be biased, but there just aren't many better sources of joy than Midwest museums and the terrific people who work inside them! Take a break from your work day and watch this special Midwest edition of Some Good Museum News! This lively 30-minute broadcast shines a spotlight on the Midwest's latest and greatest stories, moments of inspiration, and reasons to smile. ASL Interpretation and Zoom's built-in transcriptions are provided.
This year's co-anchors:
Jerry Bruzek, Mutual of America, Bloomington, MN

Charity Counts, executive director, AMM
Stephanie Gragg, Illinois State Museum, Springfield, IL
---
Midwest Museums Connect Meetups
Every other Friday at 10:30 a.m. CT (11:30 a.m. ET)
Midwest Museums Connect Meetups are biweekly virtual gatherings where you can connect with your peers and discuss current concerns, events, or industry-wide issues and trends. These casual conversations are a safe space to hash out your daily struggles with your colleagues. Sign up to receive the Zoom login information. Attend any and all that you wish. Upcoming topics include:
March 25, Navigating Staff Expectations Across Multiple Generations: How are you addressing the needs of different generations and abilities among your staff? How are you balancing expectations and working through potential tensions between these groups? If the expectations are wide-ranging, has the process of working through differences caused you to rethink your goals, purpose, approach, etc.?
April 8, Employee Benefits: How do you determine and communicate employee benefits? What benefits are you offering beyond pay and insurance coverages? What benefits do the majority of employees take advantage of or what gets the greatest positive response?
April 22, Volunteer Recruitment and Engagement: How are you approaching volunteer recruitment and engagement this year? What's new/different about the process? How are you supporting volunteers' needs and addressing expectations? What benefits do you offer to volunteers? What steps have you taken to enrich their experience?
---
45 Ideas in 45 Minutes: Support Healing, Boost Morale, and Prevent Burnout
This fun, interactive session generated ideas that will help museum leaders and supervisors support healing, boost morale, and prevent burnout among their staff. Facilitators divided participants up into teams for a little friendly brainstorming competition, and kept notes in a Jamboard. ASL Interpretation and Zoom's built-in transcriptions are provided.
Facilitated by:
Charity Counts, AMM, Indianapolis, IN
Sara Phalen, West Chicago History Museum, Chicago, IL
Brian Sharrow, Mutual of America, Detroit, MI
Kristine Zickuhr, Chazen Museum, Madison, WI
---
Afternoon Snack & Chat with "Mattie the Cook," Glessner House, Chicago, IL
When Midwesterners gather, in good times and in bad, delicious food is always on the agenda. Watch this fun afternoon cooking program with Mattie Williamson, the Glessner family's beloved cook (portrayed by ElliePresents) who will share stories of the family's food traditions while showing us how to make some of Mattie's favorite – and even famous! – snacks for the staff, right from the Glessner House kitchen. ASL Interpretation and Zoom's built-in transcriptions are provided.
---
Afternoon Cool-Down with Norskedalen Nature and Heritage Center, Coon Valley, WI
April 14 at 3:30 p.m. CT (4:30 p.m. ET)
During the Museum Worker Well-Being Series, we encourage you to join us in making space in our busy schedules for a little "me time." On this 20-minute virtual tour of Norskedalen Nature and Heritage Center, we will learn about the Norwegian philosophy of friluftsliv – being one with nature. Make space at the end of your work day to slow things down a bit and enjoy a new view. We encourage you to sit, stretch, or move with us in the way that is comfortable for you from wherever you are.
Program will take place in Zoom Webinar. Session will be recorded. Zoom's built-in transcriptions will be provided.
---
Lunchtime Leadership Chat: Employee Needs, Well-Being, and Belonging
April 18 at 12:30 p.m. CT (1:30 p.m. ET)
In what ways are Midwest museum leaders prioritizing and supporting staff needs and well-being at this time? How are they ensuring individuals feel included and a sense of belonging? What have been the greatest challenges as they addressed new needs that have developed in recent years, in an attempt to maintain morale and prevent burnout? How are leaders prioritizing or making space for their own needs, mental health, and well-being? We'll explore these questions during a 60-minute moderated panel discussion with executives from AMM member museums, including time for Q&A.
Panelists include:
Juliette Francis, Vice President of People and Museum Culture, Science Museum of Minnesota, St. Paul, MN
Monica Walker, Human Resources/Administration Director, Dayton Art Institute, OH
Beth Whisman, Executive Director, Children's Discovery Museum, Normal, IL
Session will take place in Zoom Webinar. Participants are encouraged to join the discussion as they are comfortable via the chat. Session will be recorded. ASL Interpretation and Zoom's built-in transcriptions will be provided.