This year's conference theme "Forward, Together" was a reminder of the need for community in meaningful and lasting change. This article was contributed by Rachel Hausmann Schall, Artdose Magazine Contributing Writer, and addresses the ways that museums help to make strong communities through their work with artists.
---
Even after seven years, the words of a college professor still resonate, "You can't make art in a vacuum." At the time, these words of wisdom didn't carry as much weight as they do now. You can, in fact, make art in a vacuum. Working alone in a studio making paintings for the rest of time may sound like a dream for some. But, the truth is, art requires community. Strong communities are the backbone of successful experiences for artists and audiences alike.
Artists reach viewers through the spaces and platforms that promote their work. Curators and writers think critically about contemporary makers while developing and sharing connections. Publishers support exhibitions by communicating happenings to the general public in print and online. Each of these are necessary components in a functioning arts ecosystem.
New York City has long been known as the arts capital of the United States, followed by other coastal cities like Los Angeles, San Francisco, Boston, Miami, and Philadelphia, which are also well recognized for being creative and artistic hubs. Unlike coastal cities, the midwest offers affordable alternatives to securing physical spaces for studios, galleries, or independent projects. Lower living and rental costs provide artists sustainable means to support a creative practice.
The midwest is thriving with bountiful art communities sprinkled in urban, rural, and suburban areas, often overlooked in national arts and culture media. Artist-run gallery spaces operating out of homes, basements, garages, storefronts, and industrial warehouses continue to offer engaging and thoughtfully curated exhibitions in cities like Milwaukee, Chicago, Detroit, and Minneapolis, among many others. Small museums in these cities and others in the midwest complement their booming creative communities with robust collections, as well as challenging and relevant exhibition programming.
Carrie Johnson, Executive Director and Curator at the Rockford Art Museum in Rockford, IL describes her city's art community, "We have a rich arts and culture scene. Rockford is unique because we are located in the center of some major cities with excellent art scenes including Chicago, IL (60 miles away), Milwaukee, WI (90 miles away), Madison, WI (65 miles away), and others. While we are a main hub, Rockford also includes several smaller communities around us like Freeport and Beloit."
She discusses what she loves about artists and art communities in the midwest, "The scene is super diverse and has an honesty to it. It's not contrived or forced but seems to come from within artists. There's a certain grittiness to midwestern art that I love, it feels like this grit is derived from experience and hard work. Midwestern artists, in my opinion, have a certain confidence in their work that I have the utmost respect for. It's not trying to fill a certain criterion or be something it's not, it's just naturally cool and sincere."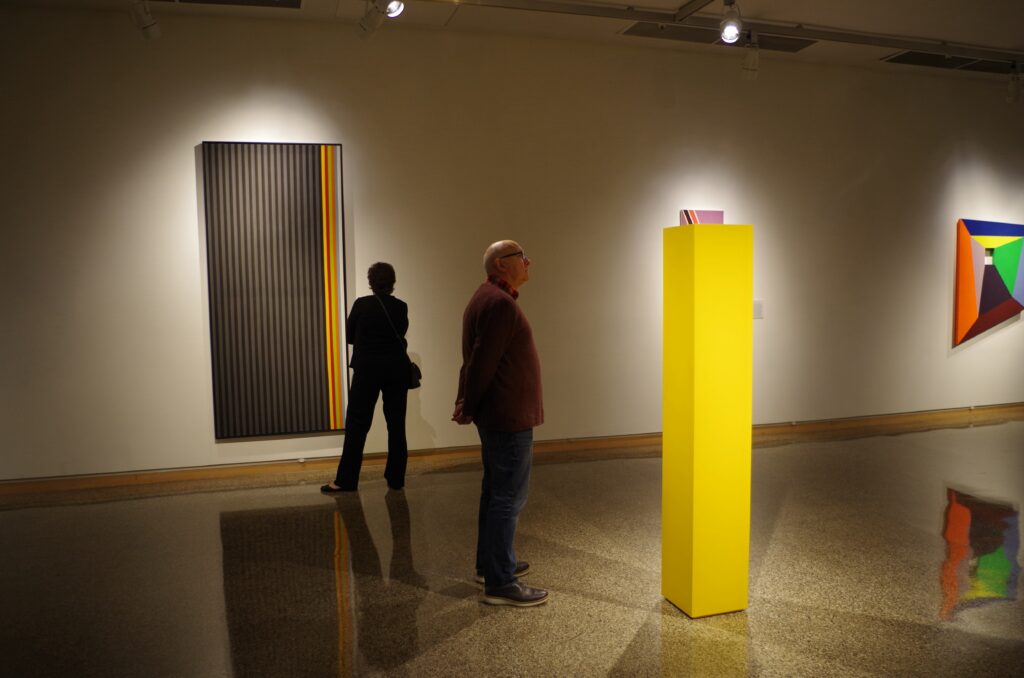 Although some would argue that the midwest offers less opportunities for artists than larger cities like New York or Los Angeles, with fewer options for gallery representation, artists in midwestern cities continue to be integral in the formation of their own art communities. Artist and curator Jessica Bingham co-founded Project 1612 in Peoria, IL in 2015, supporting over 20 solo exhibitions of emerging artists since that time in a renovated garage gallery space. In addition to hosting the work of artists from across the nation, Project 1612 also partners with various organizations to support group exhibitions and community events like the Terrain Biennial, a public art festival. The Terrain Biennial encourages community participation across cities in the nation by way of site-specific installations in neighborhoods and unexpected areas: front porches, yards, windows, porches, and roofs. Another midwestern gem, this project was founded by artist Sabina Ott in 2011 and has grown to include over 500 participants bi-annually.
Emily Lanctot, Museum Director, Curator, and Associate Professor at Northern Michigan University shares, "If artists are willing to build it, folks will help, and supporters will come. Opportunities are and can be cultivated here." Emily is Museum Director and Curator at the DeVos Art Museum, the only art museum open year round in the Upper Peninsula. As host of North of the 45th, an annual juried exhibition, the DeVos Art Museum celebrates the breadth and depth of artists from rural and urban areas living north of the 45th parallel in Michigan, Wisconsin, and Minnesota. The 45th parallel is known as the halfway point between the equator and the North Pole and is often associated with being "up north." Initiatives to support artists in these areas are not uncommon for museums in the midwest. Located in Madison, Wisconsin, the Madison Museum of Contemporary Art (MMoCA) is known for their cornerstone exhibition, The Wisconsin Triennial, recognizing the strength and diversity of artists in Wisconsin. For the first time in its history, MMoCA invited a guest curator to organize the 2022 triennial exhibition. Fatima Laster, owner, operator, and curator of 5 Points Art Gallery + Studios in Milwaukee, highlighted the work of Black women artists in Wisconsin by representing intergenerational artists working across mediums in her curation.
In Wisconsin, artist-run projects in rural areas like The Poor Farm (Manawa, WI) and Wormfarm Institute (Reedsburg, WI) have gained national attention. Other artist-run spaces like Terrain Exhibitions in Springfield, IL, the Neon Heater in Findlay, OH, Public Space One in Iowa City, IA, Cultivate in Grand Rapids, MI, and Soo Visual Arts Center in Minneapolis, MN invite artists to submit exhibition proposals, complete residencies, and encourage collaboration across geographical boundaries. This short list only scratches the surface of the multitude of vibrant, bustling, and energetic art communities present in the midwest.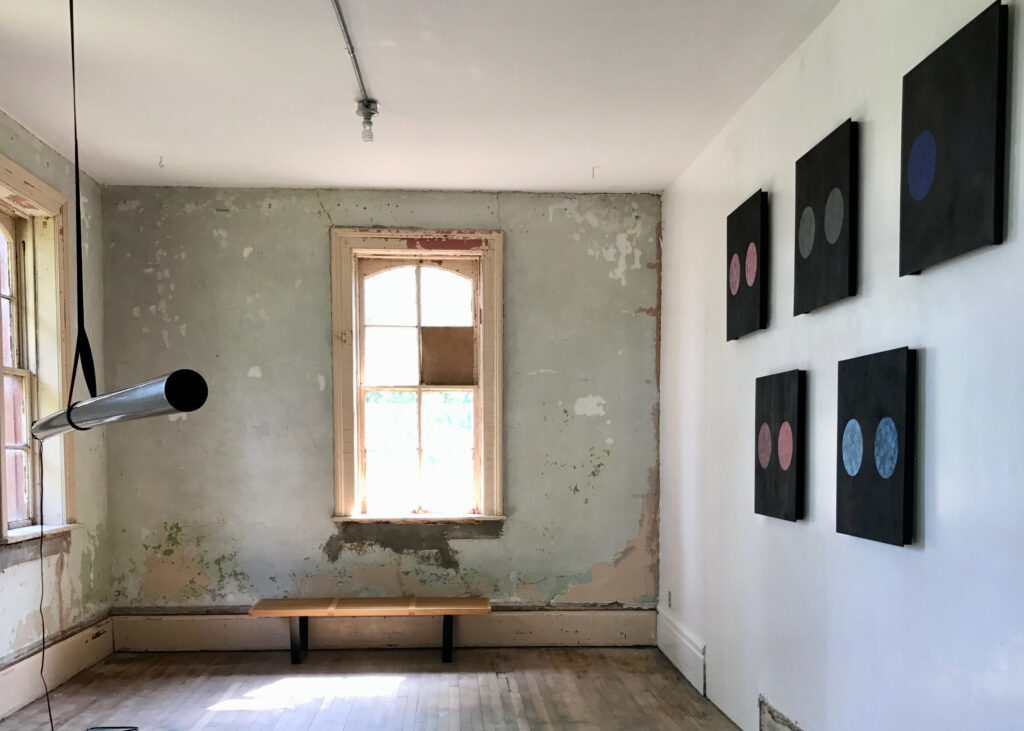 Midwestern artists and organizations are not only creating exhibition opportunities, but also producing educational, networking, and professional development opportunities with a do-it-yourself attitude. MDW Fair is an artist-run assembly that convenes alternative artist platforms in the Chicago region by avoiding the financial and inaccessible practices of traditional art fairs. In Dayton, OH, a group of artists collaborated to organize Futures: A National Artist-Run Spaces Symposium. The symposium offered panel discussions and keynote speakers to benefit participants while creating a space to discuss strategies and methods of artist-run galleries, share experiences, and improve communities across the nation. Publishing opportunities exist here too, with the presence of arts writing platforms like Sixty Inches From Center, The Rib, Newcity Art, and The Third Rail, among other independent and artist-run publishing projects.
Massachusetts-based artist Kelly Clare, who recently exhibited at the University of Wisconsin Stevens Point reflects, "In many ways, the midwest is a great place to make weird, contemporary art. There's a lot of space, there's a lot of material, there's a lot of cheap material. You don't find these opportunities out east where space is at a premium. There's a certain generosity of material in the midwest that's very fruitful and makes a lot of things possible for artists. It's exciting."
With affordable rent prices, vast amounts of space, and the freedom to experiment, artists are willing to begin projects, put down roots, and encourage local midwestern communities to follow along. Emily Lanctot describes midwestern art communities as "eclectic, wide-ranging, and expansive." There is so much to experience between the coasts and beyond the conventionally known "art capitals" of the nation. The midwest's heartbeat is strong and the network of artists and spaces here continue to discover, create, and offer compelling possibilities for all.