The Association of Midwest Museums dates back to October 1927, when amateur archaeologist George Randall Fox found himself the curator of a brand new house museum in Three Oaks, Michigan.
New to his role and facing challenges any startup might encounter, Fox turned to his peers from southern Michigan and northern Indiana organizations for ideas and inspiration. It is said that the conversation was so fruitful that the group decided to form an association on the spot, and what was then called the Michigan-Indiana Museums Association (MIMA) was established. This small organization would grow quickly over its first 20 years, welcoming into the fold museums from Ohio, Illinois, and Wisconsin. Before long, the physical boundaries of AMM would reach eight Midwestern states.
Let's take a look back at some of those early meetings! Having recently announced that our conference will return to Indianapolis in 2023, we'll focus on the first two Indiana conferences.
South Bend, Indiana, 1930
Our first-ever Indiana meeting took place in South Bend in 1930. Below are two scanned pages of the meeting program with the outline of the schedule for the day. (Click the image to view the entire program.) George Fox and his colleagues enjoyed special presentations by the meeting hosts, held their annual business meeting, and engaged in roundtable discussions.
One new addition to the program at this time was a series of "short, impromptu talks," which were offered by anyone who volunteered or was called on. The program identifies a group of individuals who were "certain to be called on," including many of the organization's founders. We like to think of these as an early form of today's very popular conference "Flash Talks."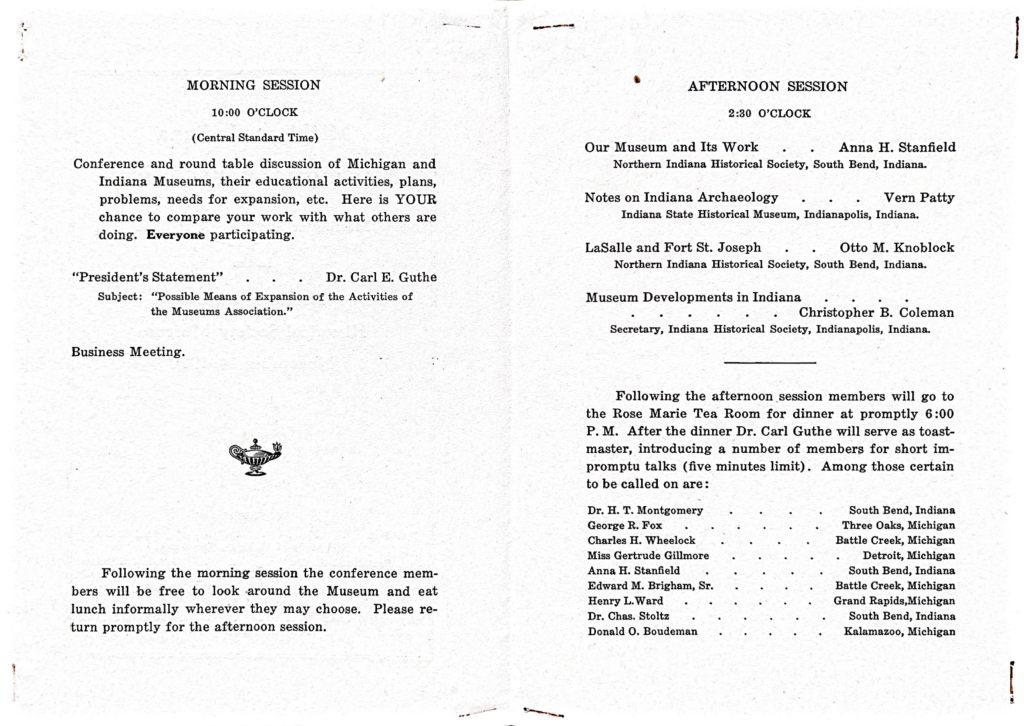 Peru, Indiana, 1932
By 1932, the annual meeting program was beginning to take the shape of the conferences we know today, with a variety of sessions presented by individuals from across the Midwest – Michigan, Indiana, Ohio, and Wisconsin. Below are scanned pages of the 1932 program brochure, with the schedule-at-a-glance for the conference. (Click the image to view the entire program.)
The morning sessions were focused on "The Museum and the Community," and the afternoon sessions on "Museum Problems." Presenters included Arthur B. Carr from the Children's Museum of Indianapolis, Charles E. Brown from the Wisconsin State Historical Museum, and Henry L. Ward from the Kent Scientific Museum in Grand Rapids (now known as the Grand Rapids Public Museum).
Perhaps just as interesting, this program outlines two major points of business to address at the meeting: 1) whether or not to become affiliated with the American Association of Museums and 2) the idea of officially bringing Ohio into the association's territory. We know what happened next, but we'll save that for another AMM Look Back!