In recent years – especially during the pandemic – museums have begun to share their collections online. Now many are asking "what's next?" We reached out to our friends at Artwork Archive to help us generate a list of possible next steps for museums who want to expand the use of these online resources or encourage greater participation from online visitors. Below are ideas and examples from the Midwest and beyond!
---
Encourage further exploration through storytelling (aka online exhibits)
With your objects and artworks from your collection already online you can easily curate a virtual exhibition. We're seeing institutions turning to online exhibits as ways to enhance their physical shows–to make them more accessible to a wider audience that may not be able to attend in person due to geography or time constraints.
Museums can also quickly stand up virtual exhibitions without the logistical constraints of physical pieces. They don't have to worry about shipping costs, installation tasks and other aspects of exhibits that make them time and resource intensive. If your digital collections management system happens to allow you to easily curate entries into web-based galleries, the process may be even simpler.
The Girl Museum, located entirely online, and St. Joseph Museums, Missouri, are two examples of museums that have created online exhibitions for their websites. In most cases they feature curated selections of paintings, artifacts, and other media.
The Albin Polasek Museum & Sculpture Gardens in Winter Park, Florida demonstrates how a small team of volunteers and staff can move an art show online, and use it as a fundraiser to raise money and sell art. Like many museums, the Polasek team had to suspend normal operations in the spring of 2020. The closure happened during their biggest event and fundraiser–Winter Park Paint Out.
Three unexpected benefits came from bringing their exhibition online. First, participating artists weren't restricted by location; they could showcase their art without traveling–and help reduce their carbon footprint. Second, artists had more space to showcase their art–not being limited to a display space in the gallery. Lastly, sales could easily be tracked and reported on by using an online art database.
Some museums have turned to Google Arts & Culture to build online exhibits that link to virtual tours of their physical spaces and online collections. A couple of great examples are the National Museum of Puerto Rican Arts & Culture in Chicago, IL, and the National WWI Museum and Memorial in Kansas City, MO. One of our favorites, of course, is the Harry Potter: A History of Magic online exhibit by the British Library.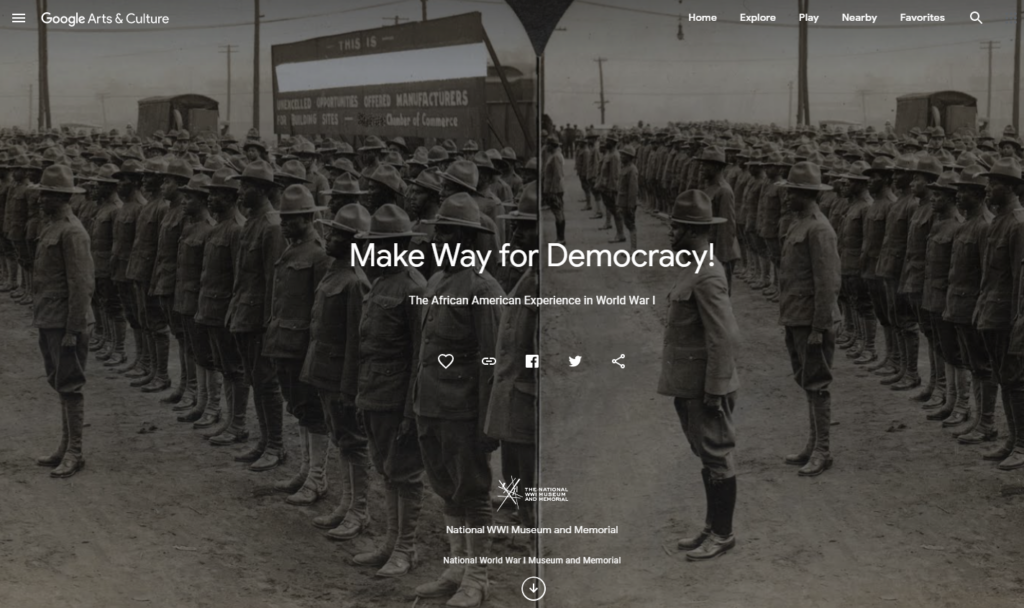 ---
Enhance learning experiences with virtual field trips
COVID presented our society with a lot of challenges, but one positive thing that came from the pandemic was the normalization of online access. Now school groups across the nation can access your museum…even if they are not a drive away.
There has been a lot of chatter in professional communities like the American Alliance of Museums about virtual field trips.
Though virtual learning is not perfect and has its own barriers, many teachers want virtual field trips to stay according to this AAM article. Virtual trips eliminate some of the obstacles that come with traditional field trips – recruiting chaperones, funding buses, coordinating permission slips and other trip logistics, etc.
With many museums boasting online tours and access to their collections online, teachers and students can explore museums' cultural benefits from the classroom or home. The Art Institute of Chicago not only hosts online tours, they also provide art activities to do at home and creative lesson plans for teachers. Learn more how other museums are creating virtual experiences for school groups here.
Virtual field trips provide benefits for museums as well. With shorter, more streamlined presentations hosted on platforms like Zoom, museums can connect with multiple schools across districts in one day – sharing out their museum and mission with ease.
---
Engage with students and scholars
The Lilley Museum of Art at University Nevada Reno brought their art collection online so that they could easily coordinate and collaborate with faculty and students.
If an art history professor is interested in works within the collection for their class, the Lilley can quickly send a Private Viewing Room of available works within the collection for study. The professor can then share the Private Room with students or direct them to the museum's public portal where all of the artworks are viewable.
At UNR the students conduct research on objects in the collection. The students start their research on the museum's Artwork Archive Public Profile. Once the research is completed, it is uploaded into the museum's database. The students are bolstering the historical and cultural context of the artworks.
We've also heard of university museums engaging with graduate students and scholars from states across the country. With their art collection online, they can easily field research requests. In the past, before digitization, questions could only be answered by going to the archive, the object or the document. Now with collections online, institutions can be better and more efficient resources for the academic community.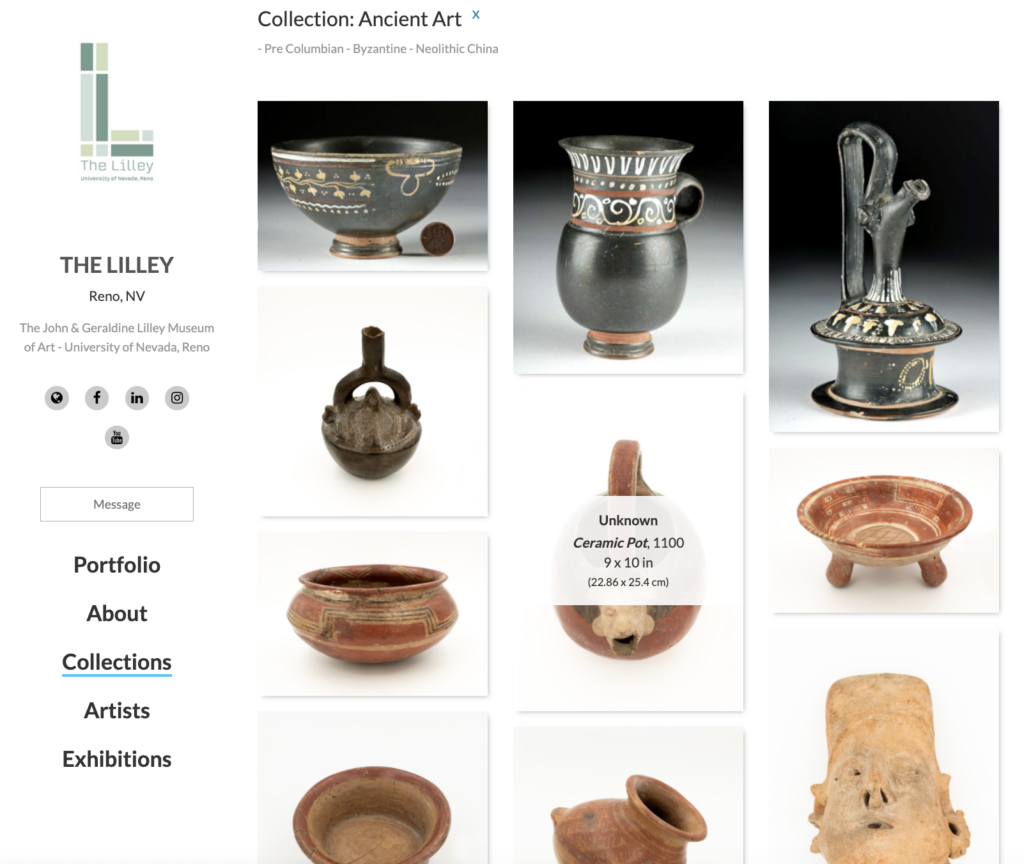 ---
Host educational campaigns or highlight online collections in virtual programs
The Haitian Heritage Museum in Miami, Florida, launched a campaign during Black History Month in which they shared an object from their collection every day via social media. They were able to quickly share artifacts and artworks that may be hidden in storage. The daily cadence gave people a reason to return to their social media and site. It instigated curiosity. It stimulated attachment. It led to more followers and interest in their museum.
One new resource that can help you make your digital collections accessible to teachers across the country is Museums for Digital Learning, an IMLS-funded project that brings together online collections from across the U.S. into a single hub for teachers. Your online collections can be highlighted in teacher guides, thematic collections galleries, and toolkits.
---
Boost participation with promotional campaigns or social media
The Gifts of Art program at Michigan Medicine hosts onsite and virtual exhibitions. In 2021 they brought voting online for their annual Staff exhibition. They saw voting triple by providing a virtual option. People were not limited by voting on-site.
The Grand Rapids Art Museum, Michigan, directly inspired visits to their online collection by highlighting them on social media. The GRAM's post linked here featured videos of scrolling pages of the collection.
Libraries are a great place to seek inspiration for how to promote archives and collections on social media. The Newberry Library in Chicago regularly features short stories about their rare books, manuscripts, maps, and more on Instagram (like this one). While the post may feature a staff member handling the physical object, it encourages participants to explore the Digital Newberry, their online collections and resources.
---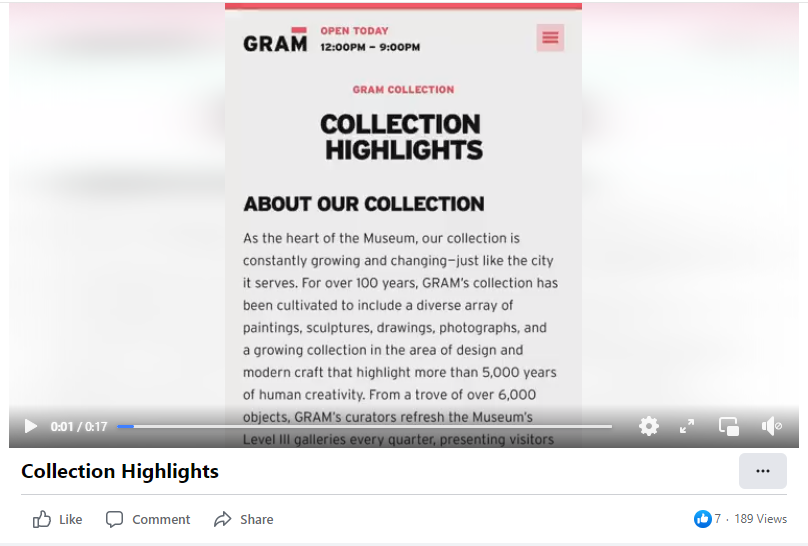 Crowd-source personal stories or learn more about items in your collection
The Colorado Photographic Arts Center has a number of photographs in their collection without any context and didactic text. They were donated or brought into the collection without any documentation. Since hosting their collection online, they've had a number of individuals reach out about particular works. Some emails were from the photographers themselves or from family members of the photographer/donor. By bringing their collection online, CPAC is learning more about the objects in their stewardship.
The Missouri Historical Society used their Gateway to Pride online exhibition featuring materials from their collection and archives as a call to action to gather oral histories and identify potential artifact loans for a much larger initiative.
---
Optimize discoverability
New Mexico State University, the University of Nevada Reno and the Haitian Heritage Museum all share that they've increased the discoverability of their museums by having their collections online. People are finding them via Google searches. SEO (search engine optimization) is driving website visits. This increased engagement is crucial for institutions that are in more rural and less populated areas. They are providing impact beyond their gallery walls.
"You're not just a building. Your collection is more than just the confines of your building," asserts Eveline Pierre, founder and executive director of the Haitian Heritage Museum.
What if people aren't finding us? The Museum Learning Hub, a free resource for small museums, features an online training module on Audiences & Analytics. Module 8 webinars and the supplementary toolkit offer tips for museums looking to see how they're doing and make improvements.