We circled back to panelists from the Reopening Plans in Action summer webinar series, to find out how things have been going. Here is a list of their observations and experiences along with pieces of advice for museums at any stage of reopening:
Visitors will come, just not as many as before. One likely expects that visitation this year will be less than last year, but how much less? Liberty Hall Historic Site has been open since July 6, and reported that attendance for July was double what they had for July 2019. The majority of their visitors have been from out-of-state—from as close as Indiana and as far away as Florida and Texas. The National Czech & Slovak Museum & Library said that they were seeing about 35% of their typical summer attendance, 5% higher than they targeted. The Henry Moore Foundation has had strong attendance as a mostly outdoor venue and have also found their new daily guided tours for small groups to be quite popular. These are all "wins" in our book!
(Note: You can view and contribute to visitation trends reported by other museums in AMM's recent Museum Snapshot Crowd-Sourced Data Sheet.)
You might have to remind guests to shop and eat. The Henry Moore Foundation reported that footfall in their visitor center and gift shop was only about 50% and decided to add signage to remind visitors that these facilities were open.
Don't be too worried about toilet queues! There is a huge amount of understanding and goodwill amongst the general public at the moment, so if people do need to wait a little longer or walk a little further, they don't seem to mind.
Have patience. People are so stressed (staff, volunteers, and board members) and everyone has an opinion about what the organization should be doing. Work with the staff and board to rethink the priorities for the site and focus on those.
Look to other organizations for inspiration. It may be helpful to benchmark against other institutions in your community or similar organizations elsewhere, as you plan and reopen. Owned by the National Society of The Colonial Dames of America in the Commonwealth of Kentucky (NSDCDA-KY), the Liberty Hall Historic Site has looked to other national houses (Gunston Hall and Dumbarton) and larger historic house museums in Kentucky. The National Czech & Slovak Museum & Library has been benchmarking with other Smithsonian affiliates their size and five sister/brother museums in their region.
Weather can change everything. In addition to the challenges of reopening, some of our panelists have reported the added difficulty of inclement weather – even natural disasters – during the summer months. The National Czech & Slovak Museum & Library is in one of the many Iowa communities recently devastated by a derecho, and the lack of resources like power and water greatly affected their ability to serve visitors. The Henry Moore Foundation said that inclement weather put their indoor capacity and plans to the test, and they have learned and adapted. For example, the museum was able to reduce the number of lines for food collection and ordering to make space for more socially distant seating (original cafe setup pictured below).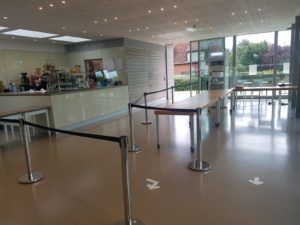 Be on guard for the unexpected! Our friends at CERN and the National Czech & Slovak Museum & Library suggest preparing for change – even disasters. Museums and cultural institutions need to review planning documents at least twice per year and practice (exercise) possible scenarios at least annually. Always have back-ups that are three deep and plan to be super flexible, taking into account that the situation will change quickly from day to day.
Last bit of advice: Don't forget to self-care. Or, as our friends in Kentucky suggested, keep a bottle of Kentucky bourbon and a bottle of aspirin in your desk drawer.