In anticipation of the upcoming conference in Grand Rapids – themed "Changing Expectations" – we asked our colleagues at Grand Rapids Public Museum share how they worked with community partners to create a new museum-based model for a high school.
---
The Grand Rapids Public Museum is a community asset dedicated to the public, focusing on history, science and culture, designed to inspire passionate curiosity and learning in all who visit. A number of years ago, the GRPM looked back to its roots as an educational institution to help inform its future – and the idea of creating a school within the Museum was born. This happened back in 2011, all thanks to a running club and a conversation that started with "What if we created a school in a museum?" What if? Well, we did.
Fast forward to 2019. A middle school operates within the main Van Andel Museum Center of the Grand Rapids Public Museum. A high school is beginning in our previous location connected to the Museum's archives. All of this originated from thinking outside the box of what a Museum and what a school can be, and utilizing our assets – including a vast Collection of more than 250,000 artifacts and specimens – to make it happen.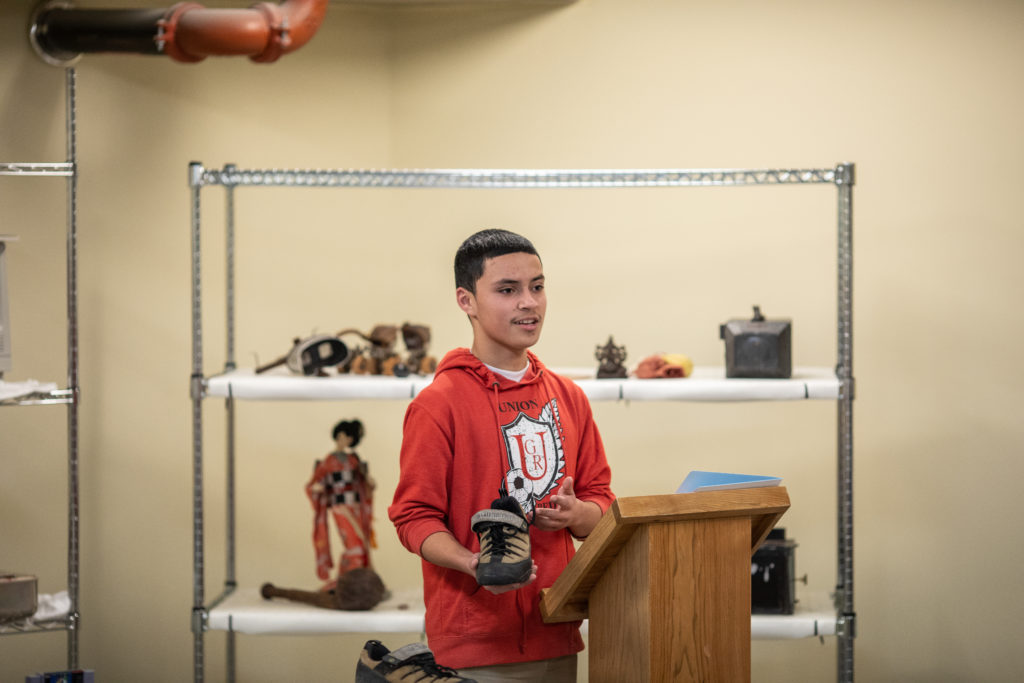 Unique from other schools, the Grand Rapids Public Museum School developed from a partnership between the Grand Rapids Public Schools (GRPS), Kendall College of Art and Design of Ferris State University, Grand Valley State University's College of Education, the Grand Rapids Public Museum, the City of Grand Rapids, and Downtown Grand Rapids, Inc.
The school is a Grand Rapids Public School Center of Innovation, and will ultimately serve grades 6th through 12th. At this time, the Public Museum School currently serves 180 students in 6th through 8th grades at the Van Andel Museum Center of the GRPM, and 90 ninth grade students in the High School located at the GRPM's former location of 54 Jefferson, connected to the Museum's Archives. Each year as the students advance a grade, a new group of 6th graders joins the program.
The school uses a mastery learning model utilizing design thinking techniques, an immersive environment, and real-life experiences that inspire curiosity, nurture creative problem solving, cultivate critical thinking, and instigate innovation. Students have access to the Museum's Collections on a regular basis, and are utilizing them for learning. Students use detailed observations and analysis to understand the significance of primary sources and help to explore the intricacies of how the past informs our present.
The Grand Rapids Public Museum School uses a lottery based system through GRPS. Students must apply to the school but acceptance is through a computer generated lottery process.  The goal is to reflect the demographics of district and be an inclusive community school. This system does not limit applicants based on academics as other test-in programs do.
In 2016, the Public Museum School was awarded one of the XQ Super School prizes of 10 million dollars to fund efforts in re-imagining high school, and has become a model of public education for the nation. Today, schools are preparing students for careers that most likely do not exist currently. The concept of climbing the ladder of success is being replaced with the idea of "rock climbing: or taking several paths to success. The XQ model of learning, showcased in practice in the Museum School, provides all students with the skills they need to be prepared for college, careers and life.
For more information on the Grand Rapids Public Museum, visit grpm.org; for more information on the Grand Rapids Public Museum School visit http://publicmuseumschool.org/.