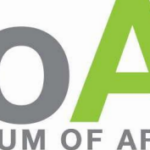 Description
Founded in 2021, the MoA+L was conceived as the first art museum in the world, that at inception, blends both digital and traditional art forms to create a series of expansive experiences— ones that continuously strive to build upon our visitors' social, emotional, cultural, and arts learning journey.
Opening in fall of 2024, MoA+L's major features include three exhibition galleries (50,000 ft2) and collection storage wing, flexible performance and classroom space, in-studio art classrooms, artist-in-residency spaces, and a large educational space that will accommodate students and visitors for art classes, field trips, or group visits giving the MoA+L a total facility of 100,000 ft2.
The permanent collection currently contains more than 750+ artworks from MoA+L's founding members and will serve as the initial catalyst for the Museum's educational programming and exhibits. The collection strengths include 17th century etchings and variations of 20th century artworks including sculptures, oil paintings, serigraphs, engravings from artists such as Rembrandt, Dürer, Picasso, Miró, Renoir, Chagall, Dalí, Pissarro, to be showcased as well as a diverse group of contemporary artists including works by those from Mexican, African American, African, and Native American descent. Diverse artists such as Peter Max, Cherkas, Britto, Lefcort, Byron, Martinez, and Mitchell are among them.
As a newly established collecting museum, the MoA+L's Collections Manager & Registrar will be the first key staff member with the vision and leadership to oversee and prepare the collection for public view. As such the Collections Manager & Registrar will work closely with the President, VP of Development & Operations to establish the proper legal, insurance, and preservation methods thus setting the right professional tone for the museum and its collection.
Once open the MoA+L Collections Manager & Registrar will work with the MoA+L Board of Advisors to expand its collection, which may include contemporary and digital art and continue to garner art works that elevate the museum's mission while fostering creative exchanges between local and global contemporary artists, cultural organizations, school districts, and diverse publics including our local indigenous populations.
Duties and Responsibilities:
Establish Collection Management Policies and Procedures in response to 5-year strategic plan
Creates and maintains a dynamically evolving Collection Development Plan
Oversees care, preservation, and interpretation of permanent collections
Maintain legal documentation, accession records, and historic archives for all objects in the MoA+L's collection.
Organize and administer regular inventories of the collection to verify location and condition of works
Oversee and implement collections portion of the Museum's Disaster Preparedness and Emergency
Response Plan. Work with Risk Management to ensure appropriate permanent collection and exhibition insurance coverage, and to process claims
Establish and manage the collections database system, ensuring that standards for data entry are maintained. Arrange for periodic system upgrades and migrations. Manage all digital and hard copy collections records, object files, and digitization of images
Produce and maintain documentation of all exhibitions, incoming, and outgoing loans in collections database system and hardcopy files. Develop and maintain collections website module, ensuring online public access to the collection
Establish object conservation priorities for works of art in the Museum's collection. Provide annual conservation recommendations and budgets and manage conservation initiatives or treatments to assure preservation of artwork
Research and maintain copyright records for works in the collection. Manage and negotiate copyright permissions for publications, publicity, marketing, and related uses. Process requests for reproduction of images of works in collection
Organize and maintain exhibition checklists and exhibition project files, including exhibition labels and photo documentation. Issue and maintain legal documents pertaining to temporary exhibitions including loan agreements, receipts, condition reports, and certificates of insurance. Maintain facility report in collaboration with MoA+L Facilities Planning & Maintenance team
Plan, oversee, and implement packing, shipping, couriers, customs, and insurance for exhibitions.
Perform condition checks and monitor condition of objects while on display. Assist with installations, de-installations, and exhibition rotations in galleries
Work with Development, Marketing, and Education departments to provide collections research and interpretation, sharing information about the collection, and facilitating various forms of access to the collection; provide content for newsletters, social media, and related communications; represent the
MoA+L through public programs, teaching, guest lectures, workshop presentations, and participation in national professional groups
Train and supervise student staff, graduate assistants, interns, and volunteers performing work related to the collection and/or in the MoA+L's galleries
Coordinate outside services related to collections care and management as needed, including contracting for collections, conservation, packing, craving, and shipping
Assist with collection-focused grant proposals/applications; implement and track grant-funded initiatives
Act as courier for traveling exhibitions as needed
Requirements
B.A. in Art History, Museum Studies, Library Science, or related subject required
Minimum of five years working in a museum, gallery, or archive
Commitment to structural equity, inclusion, and belonging toward broad-based institutional excellence, representing a range of perspectives, thoughts, and actions.
Strong cross-cultural competence
High emotional intelligence and proven ability to forge mutually respectful, trusting, and effective relationships with staff, donors, artists, collectors, scholars, museum and gallery colleagues, community leaders, and decision makers
Knowledge of and experience with best practices and museum standards for the handling, packing, storage, and transport of a variety of object types and exhibitions
Strong organizational/problem-solving skills; detail-oriented; skilled in organizing work and managing time; Ability to complete tasks requiring accuracy and attention to detail
Expertise in museum digitization processes and storage/retrieval of data
Knowledge of MuseumPlus or other digital asset management software
Experience with exhibition coordination
Proven ability to manage competing priorities and deadlines
Proven ability to work effectively and collaboratively both independently and as part of a team
Strong written and verbal skills
Ability to develop and monitor annual operating and multi-year project budgets
Ability to analyze and assess risk, and to communicate options
Knowledge of federal and state policies and procedures relating to collections and exhibition ethics, and legal regulations relating to the collection
Excellent interpersonal skills with ability to manage complex situations with agility, flexibility, and professional courtesy and discretion
Ability to travel and and/or work extended hours as needed
Preferred Knowledge, Skills and Abilities
B.A. preferred, ideally with focus or concentration in collections management
Art Handler/preparator experience
Experience working academic departments and administrative units in a university setting
Management or supervisory experience
Written and verbal fluency in both Spanish and English
Salary: $48,000.00 – $55,000.00 (Yearly Salary)
Hybrid Workplace Defined
As the Museum of Art + Light is a startup museum and is currently under construction, the location of the job will be hybrid until opening in fall of 2024. Hybrid will include both an off-site office location in Manhattan, Kansas where the individual will have access to the collections and be able to travel within a 5 min. drive to/from the new museum location, while also have the creature comforts of all of the office necessities (phone, computer, copy machine, etc.)