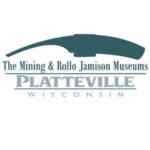 Website The Mining & Rollo Jamison Museums
Your Underground Adventure Awaits!
The Mining & Rollo Jamison Museums | City of Platteville seeks a Museum Specialist-Collections Management to provide oversight for care and registration of its heritage collection. This position is classified as regular part-time (.5 FTE) with a starting wage of $23.94/hour.
The Museum Specialist-Collections Management will provide general oversight for care and documentation of The Mining & Rollo Jamison Museums' diverse collection of more than 30,000 objects spanning the areas of cultural history, natural history and science and industry. Responsibilities will include overseeing all stewardship practices for the collections, management of collections records and digital database, documenting progress on grant-funded work plan, and applying best practices to the work of the Museums. This position requires precise attention to detail, strong communication and analytical skills, as well as the abilities to manage multiple projects simultaneously and to work collaboratively and diplomatically.
The Mining & Rollo Jamison Museums is a department of the City of Platteville as well as a mission-driven membership and entrepreneurial organization. The Mining & Rollo Jamison Museums are the eastern bookend of the Main Street business district in Platteville. The Museum campus includes scenic greenspace, pollinator gardens, a real underground mine from the pre-Civil War Lead Rush, a railroad amusement ride pulled by a 1931 mine locomotive, and picturesque interpretive structures listed on the National Register of Historic Places. The Museum celebrates Wisconsin's know-how and can-do spirit as expressed in the mining region where Wisconsin and its Badger State identity was born. Since its founding in 1965, the Museum has welcomed hundreds of thousands of visitors, a third of them school children. The Museum is Platteville's leading tourist attraction and the largest in the tri-state area (Wisconsin, Illinois, and Iowa) interpreting the mineral heritage of the famous Upper Mississippi Valley district.
Key Responsibilities
Manages collections records and database; including inventorying/cataloging of all artifacts. Drives completion of comprehensive digital database. Generates progress reports and database reports as needed.
Participates in establishing data standards, processes and procedures, and enables consistency in information across diverse collections. Maintains collections policy and recommends updates as necessary.
Oversees production and management of object image files and other media, and integrates into the collection management system.
Develops and expands the Museum's digital assets, including history, provenance, status, condition, location, and description of each object.
Monitors artifact storage and exhibit spaces for temperature/humidity, environmental hazards, safety, and cleanliness. Works with Museum team to improve environmental conditions as needed.
Trains and supervises Museum Collections Assistant, collections interns, and collections volunteers.
Works with Museum Director to make recommendations for possible accessions and deaccessions, and manages documentation and disposal according to collections policy.
Follows museum best practices in all projects for the museum.
Qualifications
Minimum education: High School diploma or equivalent (Bachelor's degree with a major in Public History, Museum Studies or related field; or Master's degree in a related field preferred), and
Related work experience of 1 to 4 years, or
Any equivalent combination of education and experience.
Knowledge of local history, experience with developing and delivering interpretative programs to a broad audience, and supervisory experience preferred.
Valid driver's license.
How to Apply:
To apply send your resume and a cover letter explaining why you are interested in the position, together with a completed City of Platteville employment application (available here) to Museum Director Erik Flesch, at museumdirector@platteville.org or The Mining & Rollo Jamison Museums, PO Box 780, Platteville, WI 53818. Applications will be accepted until the position is full.