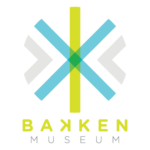 Website The Bakken Museum, Minneapolis, Minnesota
Inspiring a passion for innovation.
POSITION OVERVIEW
The Public Programs Coordinator serves as a central member of the education team, developing and delivering education programs on-site and off-site. Additionally, they are responsible for logistical coordination of public programs including Science Studio, events such as Discovery Days and Bakkenalia, and exhibit facilitation.
ESSENTIAL DUTIES AND RESPONSIBILITIES
Public Programs Responsibilities – 40%
Participate in development of Public Programs
Supports the hiring, training, and scheduling of program staff and volunteers
Communicates with community partners for events and programs
Participates in tracking of Public Program participation
Oversees purchasing and repair of program materials
Tracks program expenses
Serves as liaison to Exhibits Team for the Education Department
Member of Program & Event Planning Team
Education Responsibilities
50% – Development and preparation of education programs
Delivery of education programs
Evaluation of education programs
Participation in Education Leadership Team
Operations Responsibilities
10% Provide support and coverage for Front Desk
Serve as Manager on Duty for Saturdays and Sundays
Other duties as Needed or Required
CORE COMPETENCIES
Commitment to Diversity – Eager to work effectively with other employees, partners, and participants without discrimination based on race, color, creed, religion, national origin, gender, sexual orientation, disability, age, family composition, marital status, or socioeconomic status. Committed to opportunities to support cultural diversity in the workplace.
Commitment to Service – Responsive to the needs and requests of the museum's visitors, event guests, and organization partners. Extends courtesy, friendliness, and overall respect to others.
Interpersonal Communication and Teamwork – Listens well and is open to others' perspectives. Develops strong working relationships and values them as critical to effective work.
Initiative – Demonstrates willingness to make significant contributions with little direction. Voluntarily starts projects. Exercises good judgment and independent actions when appropriate.
Flexible – Adaptable and responsive to change. Able to respond to requests promptly.
OUR VALUES
Creativity – We believe that everyone has the ability to use their creativity to help make the world a better place. We aim to foster that creativity in each other and our audiences.
Curiosity – We are always learning, growing, and asking questions. This curiosity is the lens through which we approach learning and making connections in unexpected ways.
Uniqueness – We take pride in the ways we can be surprising or different from what might be expected. We encourage our staff and audiences to bring their full selves and embrace the strengths and connections in our differences.
Adaptability – We acknowledge that change is constant and that we are made stronger by our ability to accept and understand change. We improvise with empathy and purpose, using change as an asset to adapt, grow, and develop in new ways that support the needs of our audiences and each other.
Collaboration – We work to leverage our collective genius in service of our mission. We listen to each other, support one another, work to better understand each other, and as a result, grow and evolve together.
Equity – We will strive to be a place where everyone is welcome, represented, and valued and will work to correct the structural imbalances which prevent that goal.
POSITION REQUIREMENTS
Two years of experience teaching, supervising, and/or working with K-12 youth in a formal or informal educational setting.
Must be available to work weekend hours and occasional evenings.
Must be self-motivated and work well independently as well as a member of a team.
Dependable, reliable, and punctual.
Good computer skills (Microsoft Office).
Excellent communication skills (written and especially verbal) are essential.
Reliable transportation and a valid driver's license.
PHYSICAL DEMANDS
The physical demands described here are representative of those that must be met by an employee to perform the essential functions of this job successfully. Reasonable accommodations may be made to enable individuals with disabilities to perform the essential function
Ability to stand/sit for at least 8 hours per day
Ability to lift up to 50 pounds
Ability to move through and access all areas of the buildings and grounds, including stairs, indoor/outdoor areas, and small spaces.
TRAVEL
Occasional travel may be required for this position.
COVID-19 Safety and Guidelines
The Bakken Museum is committed to providing a safe and healthy environment for visitors, students, and staff. In accordance with our COVID-19 Preparedness Plan, all staff are required to be vaccinated and boosted against COVID-19. Reasonable accommodations will be made for those who cannot take the vaccine due to health or religious reasons.
HOW TO APPLY
Please email Justin Spencer, at spencer@thebakken.org with the following two pieces of information, and completing an optional, anonymous demographics survey.
Two to three paragraphs in the body of the email detailing why you are interested in this position and how you believe that you meet the requirements.
Each paragraph can be between 3-7 sentences, for a total length of no longer than 21 sentences. Do not attach a cover letter; attaching a cover letter will be considered not following directions.
Your work/skills/training history as an attachment OR link to your LinkedIn profile. We do not have a preference for which one, you will not receive special consideration for sending both. Our aim is to understand where you have worked before and the types of roles you have had.
OPTIONAL – Please consider filling out an optional, anonymous demographics survey, found here (https://thebakkenmuseum.formstack.com/forms/igm_applicant_demographic_survey). This survey will remain unattached to any application materials and is used only to determine patterns and opportunities for improvement. The hiring manager will not have access to the individual responses collected.
Complete applications will receive a confirmation of submission within 48 hours. Incomplete applications will be notified of their incomplete status. There is an application deadline of November 27th. Please contact Justin Spencer if you have questions about this process.
Compensation: $36,700
Eligible to participate in medical and dependent care FSAs and 403(b) retirement plans.
Eligible for Group Health Insurance: The Bakken pays for 100% of premium
Reports To: Director of Education
The above statements are intended to describe the general nature and level of work performed by the staff member assigned to this position. This job description is not designed to cover or contain a comprehensive listing of activities, duties, or responsibilities that are required of the employee for this job. Duties, responsibilities, and activities may change at any time with or without notice.