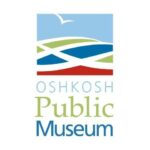 Website Oshkosh Public Museum
The Oshkosh Public Museum is searching for a full-time Curator of Education. This position plans, develops and presents public programming related to the mission of the museum. The Curator of Education creates and facilitates education and enrichment programming relevant to students, teachers, families, and adult audiences.
This position requires excellent people skills and the ability to communicate with visitors from a variety of backgrounds, abilities, and perspectives as well as energy and enthusiasm to help develop the museum as an extraordinary community, cultural, and educational resource.
Minimum Qualifications:
· Bachelor's Degree in Education, History, Anthropology, or a related field; Master's Degree in Museum Education, Museum Studies, or a related field.
· Formal teaching experience and experience planning and implementing educational programming for K-12 audiences in a museum, historical site, or related setting; three (3) or more years of experience as an educator at a museum or historic site is desired.
· Knowledge and experience with the American Alliance of Museum (AAM) Accreditation standards, visits, and best practices is desired.
· Experience leading volunteers is desired.
· Valid Driver's License.
This is a full-time, non-exempt position with a full benefits package. Pay ranges from $60,274 – $68,874.