By Nikita Werner, Logistics and Project Manager for Guardian Fine Art Services
---
Museum collections deserve top-quality storage and travel containers. Before engaging with a crate builder, answer the following five questions to ensure you are receiving the right product for your pieces.
Every institution wants to provide the best possible care for their collections while in storage, on exhibition, or in transit. However, many institutions face tight budgets and hard deadlines that mean collections specialists must be strategic about how they prioritize protective measures. Working with a professional crate builder can help you navigate the decision-making process and ensure you receive the right product for your collection and institution.
Below are five questions to ask before engaging with a professional crating company. Thinking through these factors ahead of time will allow you and the crate builder to stay on the same page throughout the design and fabrication process.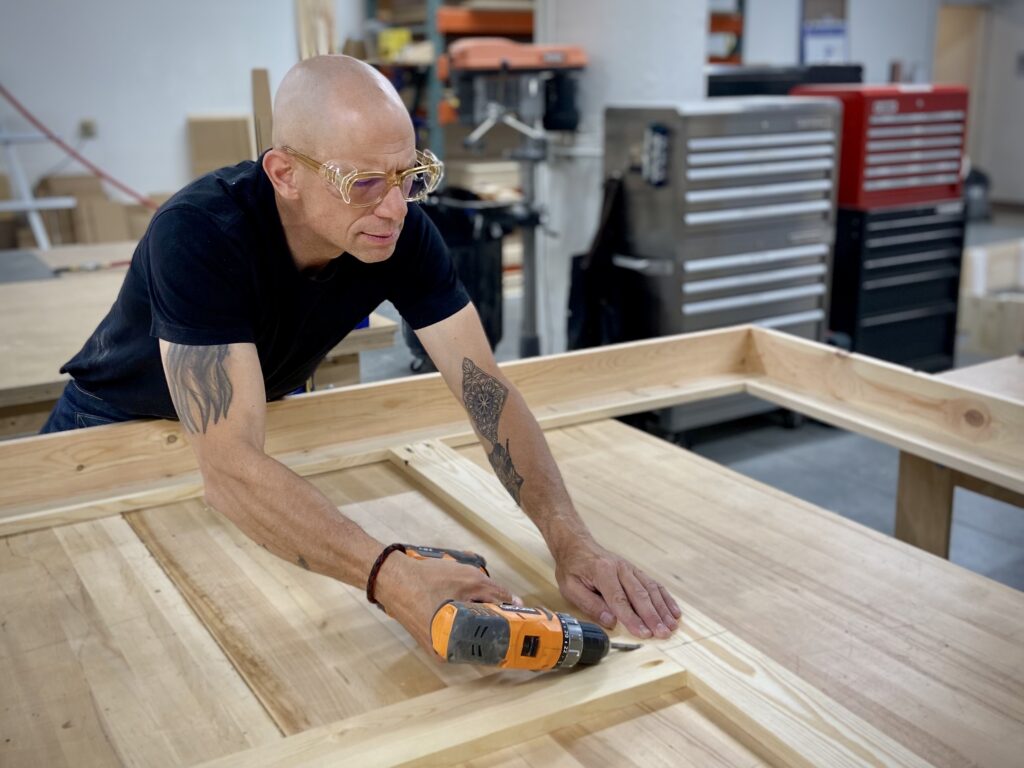 1) Where is your crate headed? Consider the destination(s) of your pieces, both short- and long-term.
Crates traveling internationally must meet specific lumber requirements. Seeking out a professional crate builder will ensure your crate is ISPM-15 compliant and stamped, so it does not get held up in customs between destinations.
International crates also include more interior features, such as foam insulation and gasket closures to protect the piece from fluctuations in temperature and humidity. If your pieces will be traveling to multiple destinations for an exhibition, a museum crate will withstand long-distance travel and repeated opening and closing. Knowing whether the crate will travel internationally ahead of time ensures your crate is built to the correct specifications.
If a piece is being crated and stored in a climate-controlled storage facility with minimal handling, a slat crate may be preferred over a full crate. The environmental conditions will factor into whether additional insulation or other interior crate modifications are advisable. An experienced crate builder knows how packing and crating materials interact with the environment and will develop a custom design that keeps your collections as safe as possible.
Expert tip: An often-overlooked consideration is accessibility. Mapping doors and hallways, elevator height, and access to storage spaces is essential when designing large crates for storage or transit. This is especially true when considering a crate that will house multiple pieces. The larger crate may reduce overall cost but could create handling problems in the future if not considered beforehand.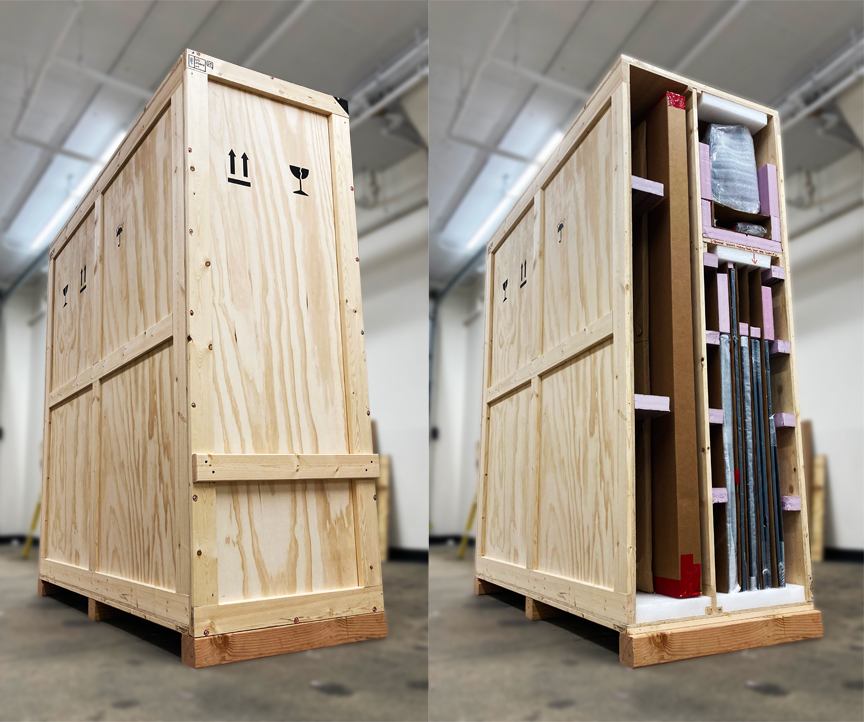 2) How is it getting there? Whether traveling around the world or down the hallway, thinking about how a crate will reach its destination is integral to the design process.
When working with a reputable art handling company for fine art transportation, you have the added security of climate controls, professional drivers, and experienced art handlers. They understand the special care involved in handling fine art crates, meaning there is less risk of damage to the crate and its contents.
A crate builder may ask you who will be handling the crate they are building. For crates traveling long-distance, the answer will depend on the type of transport being used. Air, sea, and rail freight all come with their own set of risks, some higher risk than others. If you are considering long-distance travel, talk to your crate builder about added stabilization measures that can mitigate your concerns.
3) What is the nature of the collection? A crate builder will take the material, condition, and conservation concerns into consideration when designing the right crate for your pieces.
From custom tray systems to insulation and interior travel frames, a crate builder will walk you through the pros and cons of each design element, so you know you are getting the protection you need, without adding unnecessary expenses.
Providing photographs, dimensions, weights, and condition notes is a great first step in the process of purchasing a custom storage or travel crate.
4) Are there insurance or loaning institution requirements? You may be required to follow guidelines set forth by an outside entity.
Some decisions will be made for you by either loaning institutions or insurance companies that mandate a certain caliber of packing and handling for the pieces in your care. Understanding exactly what the requirements are will ensure you request the right crate from the beginning.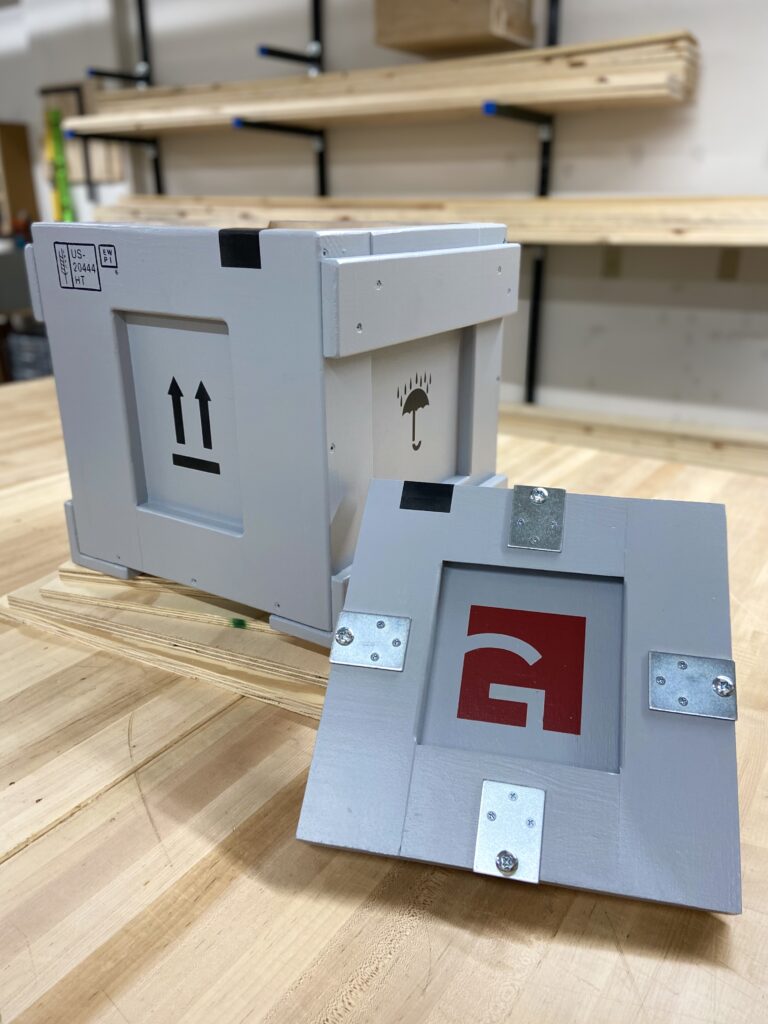 5) What is your budget? The cost of a custom crate comes down to labor + materials.
The bigger and more complex a crate is, the more of an upfront investment it will be. The dimensions and weight of a packed crate will also factor into transportation and storage costs down the line, which is an important consideration when thinking about the long-term utility of the crate.
A full museum crate is the gold standard in storage and transportation packaging, but it may not be necessary or economical in every situation. A reputable crate builder will help you find the most cost-effective solution that meets your institution's standards and shipping or storage requirements.
---
Working with a reputable crate builder can put your mind at ease.
Guardian Fine Art Services has a dedicated workshop and knowledgeable staff who will walk you through the crate design and fabrication process. Guardian works with a wide range of local and regional museums to build crates appropriate for all manner of shipping and storage. Whether your institution has existing crate specification guidelines, or you need help navigating the options, we work with you to ensure our crates meet your standards.
Contact our project team today to discuss your institution's unique crating needs, or visit www.guardianfineart.com to learn more about our custom crating solutions.