---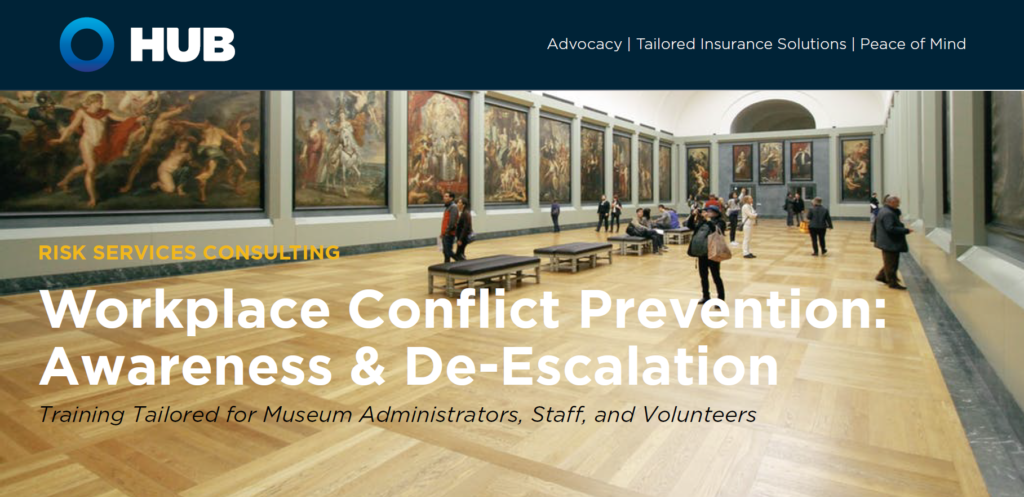 Training Options Organized by HUB and AMM for Museum Professionals
AMM has teamed up with member and partner HUB International to offer conflict prevention and resolution training options for the Midwest museum community and beyond. Below, you will find more information on our upcoming live webinar series and how to request customized training sessions for your organizations.
---
Live Webinars
Join HUB International and their Organizational Resilience Team for two webinars designed specifically for cultural institutions and risk factors related to the coronavirus. Click here to download HUB International's brochure with details on each session in the series.
Training Session # 1 – Tuesday, June 9 at 2:00pm EDT – The first webinar in this series is focused on training and strategies for institutional leadership. Upon completion of this training and strategy session, leadership teams will have a shared foundational knowledge and have a clear actionable path toward building a risk-appropriate workplace violence prevention program and to understanding the importance of strategies for staff and volunteers related to de-escalating conflicts with visitors.
Training Session # 2 – Tuesday, June 16 at 11:00am EDT – Foundational Awareness Training for All Staff & Volunteers – This awareness training session is designed to introduce cultural institution staff and volunteers to prevention and intervention focused strategies for identifying types of conflict and for preventing aggressive behavior and acts of violence in the workplace. Upon completion of this training session attendees will have a fact-based understanding of common aggressive behaviors seen in open-to-the-public workplaces that have the potential to escalate, as well as strategies individuals can use to bring calm and de-escalate conflicts. Topics include: OSHA's Workplace Violence Typologies, Verbal De-Escalation and Conflict Resolution Strategies, and Understanding Agitated People.
Conflict Prevention Series Replay – Did you miss the recent live webinar series – Conflict Prevention in the Era of Coronavirus – presented by HUB International? We're pleased to announce a special replay offering for Midwest museum professionals and beyond. Register by July 8 to receive access to the recorded sessions and a 30-minute Q&A session with a member of the HUB Organizational Resilience Team. Replay participants have the ability to watch the sessions at their convenience between July 8-15. The Q&A session will take place on July 16th. Replay instructions will be sent following the close of registration. REGISTER BY 11:00PM ON JULY 8 (Prior live session attendees will automatically receive the series replay. No registration required.)
---
Custom Trainings
HUB is also offering customized trainings for institutions and companies in the AMM and affiliate networks. Consulting fees apply. Contact Eric Dougal for more information.
---
Register
These webinars will take place virtually using Zoom Meetings, and pre-registration is required. Registration fees cover the cost of the presentations and a portion of proceeds will be contributed to future AMM programming.
Registration Rates:
Individual – $25 for members, $100 for non-members
Institutional – $250 for members, $500 for non-members (unlimited employee participation)
Members of AMM and below listed peer and affiliate networks have access to discounted member rates for these programs:
Association of Midwest Museums
Midwest Registrars Committee
Mid-Atlantic Association of Museums
Mountain Plains Museums Association
Western Museums Association
Members who are also clients of HUB International can access these training sessions for FREE. You can also sign up for a HUB consultation during registration to access the same discount.
---