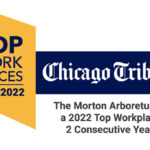 Website The Morton Arboretum
The Morton Arboretum is a world-renowned nonprofit institution dedicated to the planting and conservation of trees and other plants for a greener, healthier, and more beautiful world.  We welcome more than 1.1 million guests every year to our 1,700-acre site in the western suburbs of Chicago and manage an annual operating budget of approximately $50 million. We are seeking an experienced Controller dedicated to ensuring the accuracy and robustness of financial reporting.  Through leadership of accounting, financial planning and analysis operations, the Controller plays a key role in assuring institutional compliance and control as well as providing senior leadership with the financial data and critical analysis required to take strategic decisions and ensure the Arboretum delivers on its mission.  As the receiver of millions of dollars in federal grant awards annually, the Arboretum also depends on the Controller to lead financial administration and compliance efforts in this important area.  The Controller manages the annual financial audit and annual planning process while serving as the key management representative to the Board of Trustees' Audit and Risk Committee.  This is an incredible opportunity to be part of a team working together to make the Arboretum exceptional.
Position Summary: Responsible for ensuring accurate and timely financial accounting and reporting in support of mission, strategic plan, and customer service. Institutionally accountable for financial analysis and planning, audit and tax return coordination, treasury management, accounts payable and receivable, payroll, restricted funding, accounting systems, budget systems, and internal controls.
Essential Functions:
Supervise the timely preparation, distribution, and analysis of consolidated and departmental operating statements, balance sheets, capital expenditures, key performance indicators, cash flow, annual budget, and reporting on grant activity on a regular basis.
Supervise the preparation of audit and tax return schedules in compliance with generally accepted accounting principles. Serve as the principal liaison to external auditors and tax return preparers. Recommend changes to these service providers as warranted.
Manage the treasury by maximizing the integration of cash transactions with Arboretum bank accounts for accuracy, efficiency, and security, forecasting cash flow, ensuring accurate accounting of the investment portfolio, and supervising timely and accurate monthly bank reconciliations. Ensure sufficient cash is on hand at all times to meet Arboretum financial obligations. Regularly evaluate service quality, cost effectiveness, and efficiency of banking partners. Recommend and lead changes in those partners, as needed.
Serve as the institutional expert and key reference on accounting standards and practices. Develop and oversee compliance with accounting policies and procedures for optimum efficiency and accuracy in recording transactions and reporting financial results while maintaining a rigorous system of internal controls. Assess current accounting operations, offering recommendations for improvement and implementing new processes.
Manage the annual financial planning process, ensuring delivery of a robust, accurate, and detailed budget that aligns institutional strategy and tactics with financial constraints.
Support CFO in executing strategic finance projects, including debt issues and other financings.
Manage outsourced functions and software needs, including general ledger, budgeting, payroll, and automated accounts payable.
Serve as the primary staff liaison to the Audit and Risk Committee of the Board of Trustees. Set agendas, prepare materials for committee review, and actively participate in semi-annual meetings.
Oversee and lead the operations of the Business Office, including determining the optimal organization design to achieve departmental goals and objectives. Supervise the Accountants, Bookkeeper – Accounts Payable, Bookkeeper – Cash/Payroll, and Manager of Financial Reporting and Grant Compliance. Duties include recruitment and selection, scheduling and job assignments, performance feedback, recognition, and staff development and training in keeping with the Arboretum's policies and procedures.
Ensure the accurate and timely processing of payroll and compliance to payroll laws.
Other duties as assigned.
Qualifications: Bachelor's or Master's degree in Accounting required. CPA preferred. 7+ years relevant work experience, including 3+ years supervisory experience required. Advanced accounting and financial reporting software application skills required. Advanced proficiency with Microsoft Office, proficiency with Google applications, and outstanding oral and written communication skills required. Experience with Intacct, Adaptive Insights, Concur, and/or Salesforce a plus.
Success Factors: Ability and willingness to work as necessary to complete seasonal, periodic, and special assignments. Highly organized. Ability to manage multiple projects. Customer service oriented with effective communication skills with internal customers and vendors. Ability to handle confidential records with discretion is essential. Ability to embrace and align with our employee core values to be inclusive, take ownership, work together, keep learning and make the Arboretum exceptional.
Physical Demands and Work Environment: The physical demands and work environment characteristics described here are representative of those that must be met by an employee to successfully perform the essential functions of this job. Reasonable accommodations may be made to enable individuals with disabilities to perform these essential functions.
Physical Demands: Requires some physical activity: occasional travel locally and nationally.
Work Environment: Work is performed primarily indoors, in an office setting, although travel within the buildings and grounds is occasionally required. This position is designated as a hybrid-eligible position, allowing for some work to be performed off premise, during regular hours of work.
Equipment: General office equipment.
For full consideration, please include a resume and cover letter with application.
All Arboretum employees will be required to be fully vaccinated against COVID-19 and provide proof of that status in order to maintain their employment.
The Morton Arboretum is a champion of diversity, supporting a culture of inclusion that attracts, inspires, and engages people to achieve success. The Arboretum is committed to hire and develop employees based on job-related qualifications irrespective of race, religion, color, national origin, sex, sexual orientation, gender identity, age, disability, or veteran status. To increase diversity in professions related to the public garden realm, we encourage applications from underrepresented minorities, persons with disabilities, and veterans.
The Morton Arboretum is dedicated to complying with our obligations as an equal opportunity/affirmative action employer. All applicants are guaranteed equal consideration for employment.
Hiring Range: $105,000 to $125,000