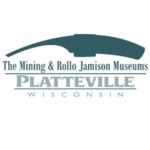 Website The Mining & Rollo Jamison Museums
Your Underground Adventure Awaits!
The Mining & Rollo Jamison Museums | City of Platteville seeks a part-time Museum Collections Management Assistant to assist with care and registration of the Museum heritage collection under a two-year Institute of Museum and Library Services Inspire! Grant for Small Museums. The Collections Assistant is expected to work approximately 16 hours per week, for a total of total of 1,360 hours until August 31, 2024, at a wage of $13/hour.
The Museum Collections Management Assistant works with the Museum Director and Museum Specialist – Collections Management to document and care for the Museum collection, which spans the areas of natural history, cultural history, and science and industry. Responsibilities include assisting in artifact handling, cataloging, and digital database management for a diverse collection of more than 30,000 objects.
The Mining & Rollo Jamison Museums is a department of the City of Platteville as well as a mission-driven membership and entrepreneurial organization. The Mining & Rollo Jamison Museums are the eastern bookend of the Main Street business district in Platteville. The Museum campus includes scenic greenspace, pollinator gardens, a real underground mine from the pre-Civil War Lead Rush, a railroad amusement ride pulled by a 1931 mine locomotive, and picturesque interpretive structures listed on the National Register of Historic Places. The Museum celebrates Wisconsin's know-how and can-do spirit as expressed in the mining region where Wisconsin and its Badger State identity was born. Since its founding in 1965, the Museum has welcomed hundreds of thousands of visitors, a third of them school children. The Museum is Platteville's leading tourist attraction and the largest in the tri-state area (Wisconsin, Illinois, and Iowa) interpreting the mineral heritage of the famous Upper Mississippi Valley district.
Key Responsibilities
Gains working knowledge of Museum collections management training materials.
Assists with managing collections records and database; including accessioning/cataloging of all artifacts.
Relocates, rehouses and cleans artifacts, and improves storage conditions according to museum best practices.
Implements data standards; helps to develop and expand the Museums' digital assets, including photography, history, provenance, status, condition, location, and description of each object.
Works with Museum Director and Museum Specialist – Collections Management on documentation and actions for loans, accessions, and deaccessions according to collections policy.
Helps monitor artifact storage and exhibit spaces for temperature/humidity, environmental hazards, safety, and cleanliness.
Works collaboratively and diplomatically as a team with other staff members and volunteers.
Follows museum best practices in all projects for the museum.
Qualifications
Minimum education: High School diploma or equivalent. Current enrollment in a graduate or undergraduate degree program in history, science, art history, anthropology, museum studies, or a related discipline; Bachelor's degree or Master's degree in a related field preferred.
Ability to work with diverse audiences including children, families, volunteers, and older adults.
Strong written and communication skills.
Experience with Windows applications.
Ability to work proactively and independently on multiple tasks while maintaining quality and meeting deadlines.
No related work experience needed (knowledge of local history, collections care methods, database experience preferred).
Ability to lift up to 35 pounds.
How to Apply:
To apply send your resume and a cover letter explaining why you are interested in the position, together with a completed City of Platteville employment application (available here) to Museum Director Erik Flesch, at museumdirector@platteville.org or The Mining & Rollo Jamison Museums, PO Box 780, Platteville, WI 53818. Applications will be accepted until the position is full.