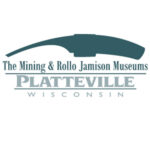 Website The Mining & Rollo Jamison Museums
Your Underground Adventure Awaits!
Are you enthusiastic about the Driftless Area and local history, and interested in sharing this place with people from around the world? The Mining & Rollo Jamison Museums | City of Platteville is now recruiting for a half-time Museum Specialist in Visitor Services. The position will develop, implement, and evaluate our tour program and Museum Store retail operation, while creating meaningful interpretive experiences through exhibit elements, events, and programs that bring the Museum's mission to life. This position is classified as regular part-time (.5 FTE) with a starting wage of $18.74.
The Mining & Rollo Jamison Museums is a department of the City of Platteville as well as a mission-driven membership and entrepreneurial organization. The Mining & Rollo Jamison Museums are the eastern bookend of the Main Street business district in Platteville. The Museum campus includes scenic greenspace, pollinator gardens, a real underground mine from the pre-Civil War Lead Rush, a railroad amusement ride pulled by a 1931 mine locomotive, and picturesque interpretive structures listed on the National Register of Historic Places. The Museum celebrates Wisconsin's know-how and can-do spirit as expressed in the mining region where Wisconsin and its Badger State identity was born. Since its founding in 1965, the Museum has welcomed hundreds of thousands of visitors, a third of them school children. The Museum is Platteville's leading tourist attraction and the largest in the tri-state area (Wisconsin, Illinois, and Iowa) interpreting the mineral heritage of the famous Upper Mississippi Valley district.
Key Responsibilities
Manages guest relations. Oversees online and in-person booking of tours and programs, the collection of entrance and tour fees, and gift store sales.
Manages business aspect of guest relations, including: opening/closing register, banking, performing evening reports, maintaining attendance reports.
Supervises and schedules paid and volunteer visitor services staff members to ensure outstanding guest experience.
Trains visitor services staff and volunteers in collaboration with the Museum Education Coordinator.
Oversees Museum Store to enhance the guest experience. Curates products for sale, and manages point-of-sale system and online store.
Works both independently and with a team to develop new tours/programs/special events that are creative, engaging and dynamic in coordination with Museum Director and other Museum staff.
Coordinates existing events as assigned.
Operates and handles all aspects of train amusement ride including daily safety check, taking and returning train from stored location, and driving train with guest passengers.
Working weekends, some evenings and holidays is required.
Qualifications
Minimum education: High School diploma or equivalent (Bachelor's degree or higher with a major in the sciences, business, communications, history, museum studies, hospitality or related field preferred), and
Related work experience of 1 to 4 years, or
Any equivalent combination of education and experience.
Knowledge of local history, experience with developing and delivering interpretative programs to a broad audience (including youth) and supervisory experience preferred.
Valid driver's license.
How to Apply
Please submit a current resume, cover letter, and completed City of Platteville Employment Application (available here) to Erik Flesch, Museum Director, via email at museumdirector@platteville.org or by mail to the address below. Applications will be accepted until the position is full.
The Mining & Rollo Jamison Museums
Attn: Museum Director
PO Box 780
Platteville, WI 53818
For questions, please contact:
Erik Flesch, Museum Director
608-348-1837 or museumdirector@platteville.org