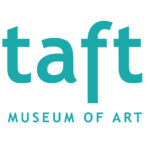 Website Taft Museum of Art
Director of Curatorial Affairs
The Opportunity
The Taft Museum of Art, one of the finest small art museums in America, is seeking a Director of Curatorial Affairs to lead the Curatorial and Collections team in advancing the institution's mission to connect people with great art in a historical setting and in the community. The Taft seeks candidates who are positive, highly organized team players who love working with the public and have a passion for helping others learn and engage with the arts. The Director of Curatorial Affairs will report directly to the Louise Taft Semple President/CEO of the Museum.
This Director of Curatorial Affairs leads the Curatorial and Collections (C&C) team to advance the Taft Museum of Art's mission of providing meaningful experiences by connecting people with great art in a historical setting and in the community. The person in this position directs and manages the exhibition program, serves as the senior curator, and oversees the care and interpretation of the permanent collection and historic house. They assure a high standard of artistic quality for the benefit of the community, members, visitors, audiences, docents, and staff. They oversee long-term planning and daily functioning of all art-related areas and projects for the museum.
The successful candidate will have outstanding interpersonal skills, a collaborative mindset, and will be highly organized, resourceful, entrepreneurial, an insightful and engaging public speaker, and last but assuredly not least, an excellent writer. The Director of Curatorial Affairs leads the Curatorial and Collections (C&C) team of the Taft Museum of Art (TMA), which includes curatorial, registration, and collections.
Compensation & Benefits
The compensation range for this role is $140,000 – $160,000 and is commensurate with experience. The Taft Museum of Art provides competitive benefits including Health Care Insurance, Dental Care, Vision Insurance, 401K, Life Insurance, Aflac, vacation days, personal days, sick days, short-term and long-term disability, free downtown parking, Employee Assistance Program (EAP), museum membership, and other special discounts.
To Apply
To learn more and apply, please view the full position profile https://apptrkr.com/3824780.
The Taft Museum of Art is an Equal Opportunity Employer and complies with the Civil Rights Act of 1964, the Age Discrimination in Employment Act of 1976, the Americans with Disabilities Act of 1990, and other applicable employment laws. The TMA is an equal opportunity employer and does not unlawfully discriminate against employees or applicants for employment on the basis of an individual's race, color, gender, religion, creed, sexual orientation, national origin, ancestry, age, disability, marital status, veteran status, or any other status protected by applicable law. This policy applies to all terms, conditions, and privileges of employment, including recruitment, hiring, training, placement, compensation, promotion, discipline, and termination.
About Koya Partners
Koya Partners, a part of Diversified Search Group, is a leading executive search and strategic advising firm dedicated to connecting exceptionally talented people with mission-driven clients. Our founding philosophy—The Right Person in the Right Place Can Change the World—guides our work as we partner with nonprofits & NGOs, institutions of higher education, responsible businesses, and social enterprises in local communities and around the world.
For more information about Koya Partners, visit www.koyapartners.com/.