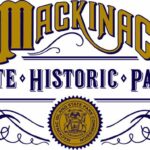 Website Mackinac State Historic Parks
This position serves visitors to Mackinac State Historic Parks by working as a uniformed Forest Adventure Guide at Historic Mill Creek Discovery Park. This seasonal position is responsible for leading the high ropes Forest Adventure Experience from early May through early September.
Start/End Date: June through August-mid October
Pay Rate: Starting at $13/hour
Responsibilities:
Put our visitors first by treating them with respect, serving their needs and providing an enjoyable, positive adventure experience
Safely lead guests on high ropes adventure elements, including the Forest Canopy Bridge, Eagle's Flight Zip Line, and the Climbing Wall Nature Trail.
Help monitor and protect the park's fragile natural features from negative human impact.
Participate in other park duties as required.
Positions Requirements:
Must be out-going, enthusiastic and have strong public contact and speaking skills
Applicants with experience leading outdoor programs in a summer camp, classroom, or other setting preferred. Highly qualified candidates will exhibit knowledge in outdoor recreation, natural sciences, communication, education, or interpretation.
Preferred candidates will be available to work the full Mill Creek season (16 weeks, from early May to Labor Day).
Work Location and Schedule: The workstation for this position is Historic Mill Creek Discovery Park located 4 miles east of Mackinaw City. Work schedules are posted in advance and are subject to change depending on park operational needs. A normal work schedule for this seasonal position is 40 hours per week, although hours and weeks worked may vary. The employee may be required to work evenings, holidays, and/or weekends as park needs dictate.
Physical Requirements: This position will involve extensive walking – including walking up and down steps and on uneven terrain. Stretching and bending are moves commonly made throughout the day by employees in this position. The employee must have the ability to do the following activities, with or without reasonable accommodation: Frequent lifting, carrying, transporting, loading and unloading of up to 35 lbs., walking long distances and up steep inclines in all weather conditions, frequent twisting, bending, stooping, reaching and grasping, sitting and/or standing for long periods of time, and the ability to utilize ferry boat transportation to and from Mackinac Island.