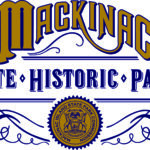 Website Mackinac State Historic Parks
The archaeology inventory assistant is responsible for physically inventorying Mackinac State Historic Parks' archaeology collection, creating artifact tags, recording location and box information and entering data into ARGUS database. This position serves visitors to Mackinac State Historic Parks by carrying out the above duties.
Start Date/End Date: March, 2023 – August, 2025
Pay Rate: Starting at $14/hour (year one); includes 13 paid holidays, two weeks annual leave and two weeks sick leave per twelve months worked.
WORK LOCATION AND SCHEDULE: The workstations for this position are the Petersen Center in Mackinaw City and the Service Center at Historic Mill Creek Discovery Park, although the employee may be asked to work at other MISPC sites as needed. The hours and days worked may vary, but will be completed during general office hours of Monday through Friday 8:00am to 5:00pm. Employee is responsible for their own housing.
RESPONSIBILITIES (ESSENTIAL FUNCTIONS OF THE POSITION):
Reconcile artifact box contents with inventory printouts and original catalog records.
Create or add to artifact tags and labels. Rehouse, if necessary.
Enter location information, box terms and new records into ARGUS collections management database.
Other duties as assigned.
EDUCATION AND EXPERIENCE:
Completion of at least one year of post-secondary education
Detail-oriented and attention to accuracy
Ability to work closely with others
Clear handwriting
Basic familiarity with 19th century material culture
Knowledge of ARGUS software (desirable, but not required)
PHYSICAL REQUIREMENTS: The employee must have the ability to do the following activities with or without reasonable accommodation: Physical effort is categorized as that typically inherent in an office setting, however the Mill Creek Service Center is not air-conditioned and windows and doors will be open. Must possess fine motor skills in order to pick up small objects. Sitting and/or standing for long periods is expected along with repetitive hand motions required to input data into a computer. The archaeology inventory assistant may encounter frequent twisting, bending, stooping, reaching and grasping of objects with an expected weight limit of 35 pounds. It is not anticipated that there will be much walking or interaction with the public in this position.
GENERAL POSITION INFORMATION: This is a temporary grant-funded at-will position which serves at the will of the employer and does not include recall rights or benefits (other than those mandated by governmental laws). This position will expire at the time employment is ended upon completion of the assigned work weeks and the employee does not have recall rights to this or any other MSHP position in the future. Specifically, the park is under no obligation to hire the individual at a subsequent time. The number of weeks and hours worked may vary as park needs dictate. Paydays are biweekly (every two weeks). It is anticipated that this position will work for the duration of the IMLS grant and that the position will expire at the time grant monies run out. Additional information will be provided upon employment.