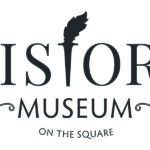 Website History Museum on the Square
The History Museum on the Square is seeking an innovative Executive Director to lead the museum through this period of growth. The director will lead the development and execution of a strategic plan. They will engage with museum stakeholders, take a holistic look at the museum's operations, and ensure financial stability, and inclusivity.
Salary: $55,000 and $7,000 stipend to be put toward benefits and insurance needs.
Job Description link.
Please submit a resume and cover letter (maximum length 2 pages) to hr@historymuseumonthesquare.org by Monday, June 6.